8 Best Pistol Lights in 2023 for All Budgets [Real Pictures and Hands-On Reviews]
Assuming you already have a reliable and well-functioning handgun, adding a weapon light is likely the best upgrade you can make to be ready for all situations.
In this guide, I'll cover the best pistol light options, including light/laser combos. I'll also explain what to look for when shopping for pistol lights.
Best Pistol Lights Preview
Streamlight TLR-1 (Best Overall Pistol Light)
Olight PL-Mini 2 Valkyrie (Best Compact Light)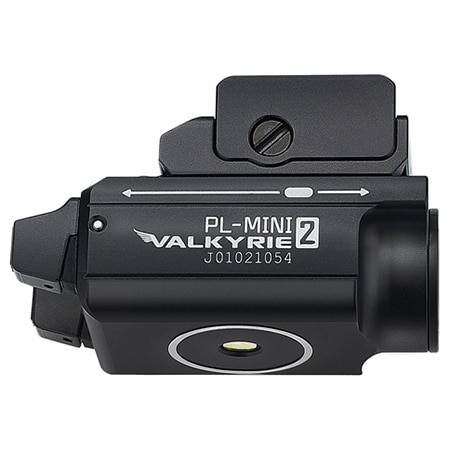 Streamlight TLR-6 (For Subcompact Pistols)
Below, I'll go into more detail about how we chose these options and the features of each of them. For those in a hurry, check out the preview list or jump ahead to our reviews and real-world pictures of our top picks.
The best pistol lights are:
Why You Should Have a Pistol Light
If you catch yourself daydreaming about using your handgun in a self-defense scenario, there's a good chance it's taking place at night. Your intuition makes sense because many types of crimes peak between 8 and 10 P.M.
One of the essential gun safety rules is to "be sure of your target and what is behind it." If it's dim or dark, a light source is crucial to follow this rule.
You can likely also imagine instances where pistol lights could provide tactical advantages. If an intruder breaks into your home at night, an environment they're unfamiliar with, controlling when a room gets lit could be beneficial. You also have the potential to temporarily "blind" an attacker going from dark to a bright light shining directly at them.
Though you could use a handheld flashlight, a good mounted handgun light allows you to use both hands for your normal shooting grip and offers the ability to control the light without breaking your grip.
Things to Consider When Choosing a Pistol Light
The most obvious thing to consider is that a given light will fit your pistol. This generally isn't an issue, though subcompact pistols you might be using for concealed carry may only work with smaller lights designed specifically for them.
Aside from this, the most important thing to me is reliability. Generally, Surefire and Streamlight are held to the highest regard in terms of reliability.
Similarly to how you'd choose Aimpoint or Trijicon if you want to be sure your red dot sight will be ready when you need it, Surefire and Streamlight have proven their reliability for years as weapon light manufacturers. Both companies have been manufacturing quality flashlights for a variety of uses since the 1970s.
Lumens are a unit used to measure the total quantity of visible light emitted by a light source. Lumens can be used to compare the brightness between different products.
Generally, more lumens are thought to be better, but I'd argue this is only true to a point and depends on your environment.
1000+ lumens may be great for use in outdoor open spaces but can be too bright for closer use. This is especially true for confined indoor spaces. Though 1000 lumens will be more likely to blind your attacker, there's a good chance that it's also enough to affect your vision.
I generally stick to 300-800 lumen lights for home-defense and concealed carry, with 800 being the most I'd recommend for indoor use.
1000+ lumen lights are better for:
Outdoor night shooting.
On a gun used for protection against animals when hiking, camping, etc.
Duty use.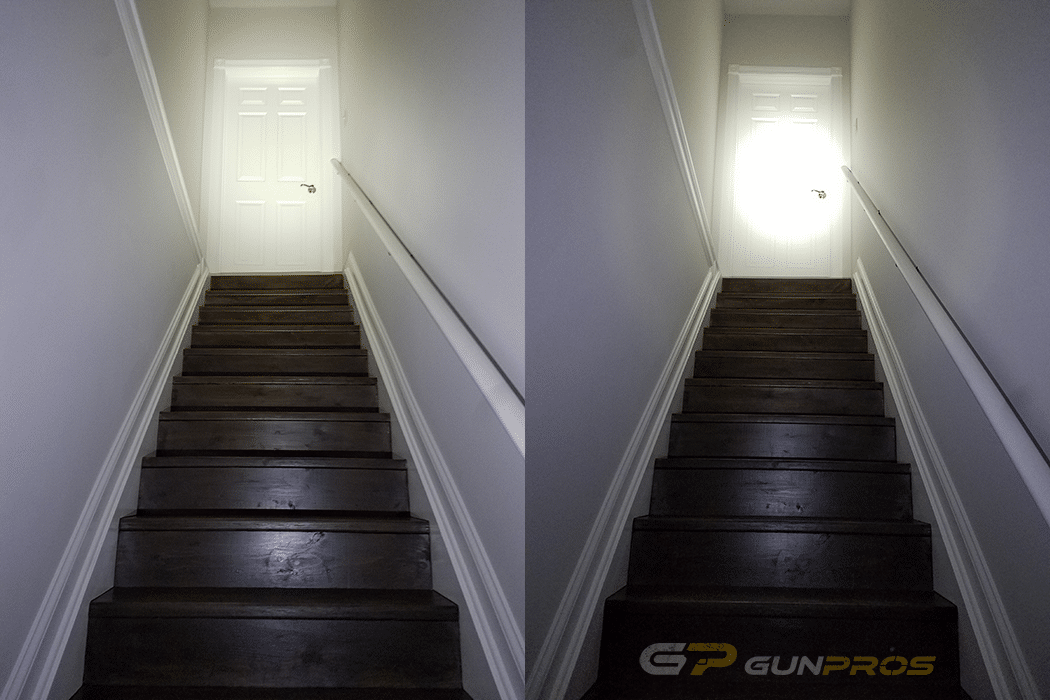 The focus and spread of a light can also play a significant factor in its effectiveness. Generally, I prefer a more focused beam.
Should You Get a Pistol Light/Laser Combo?
There's not much room to mount accessories on a pistol, so if you want a laser, it's usually best to get a light and laser combo.
I'm a huge fan of lasers on handguns for a variety of reasons.
For starters, they're fantastic as a training tool to improve your shooting. They give you a more visible idea of any issues you have, for example flinching prior to pulling the trigger.
Though lasers are notoriously bad at holding zero, I still think they're advantageous for self-defense situations. While they may not be zeroed perfectly, they should still be good enough to help you hit center mass shots.
I wouldn't recommend relying on your laser, but they're at minimum a great secondary way of aiming. Lasers are also useful for keeping aim on your target while simultaneously scanning your surroundings.
The only downside to getting a light with a laser is they can cost a good bit more than just a weapon light.
Now that we've covered all of that, let's get to our picks for best pistol light.
1) Streamlight TLR-2
The Streamlight TLR-2 series is my favorite line of pistol light and laser combos. At 3.9" long, it's sized well for all full-sized and many compact pistols, like the Glock 19 and Glock 17, or my home-defense gun the Full-Sized SIG Sauer P320 RX.
Streamlight TLR-2 Pistol Light on My Full-Size P320 RX (See more SIG P320 Upgrades)
The basic model is a 300 lumen light with a red laser, but there are also models with 800 lumens (HL/High Lumens), a strobe feature (S), and a green laser (G). For example, the TLR-2 HL G is an 800 lumen weapon light with a green laser (instead of red).
I love both the regular TLR-2 (300 lumens) and the TRL-2 HL (800 lumens), but would go with the brighter option if I could only have one. It's bright enough for outdoor use while being just on the edge of the maximum brightness I'd use for indoor use.
Having been on the receiving end of the TLR-2 HL, I'm confident in it's ability to temporarily blind attackers. It's also fully capable of lighting up most indoor and outdoor environments.
This first picture shows the TLR-2 HL lighting up a completely dark staircase.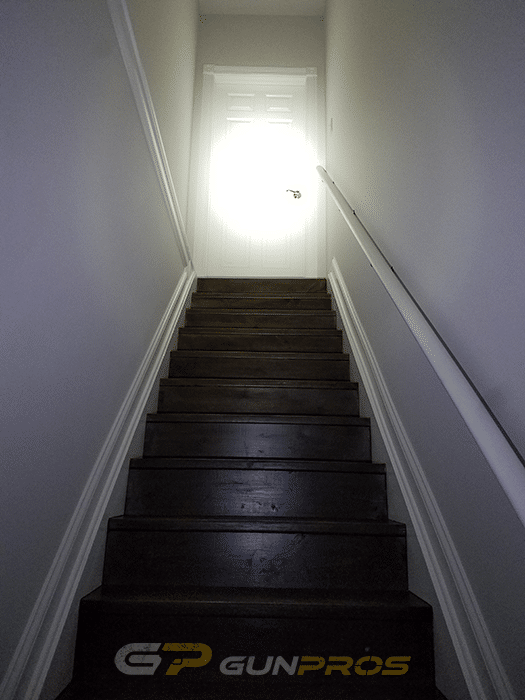 The light is very center focused, but also has enough side lightning to light up an entire large room with ease.
Though you cannot see the laser in the pictures above, it's clearly visible to the eye in real life.
The last reason I think the TLR-2 HL is the best pistol light is that it has fantastic controls. The dual-sided levers can be used to turn it on temporarily or to stay on, depending on whether you push them up or down. Because they're dual-sided, you can control them with your trigger finger or the thumb of your off-hand. The silver lever at the bottom can be moved to select between light and laser, just light, or just laser.
300 or 800 Lumen LED Light Models.
Red or Green Laser
Strobe Function Available for 300 Lumen Light (TLR-2 S)
2.5 Hour Run Time on 300 Lumen Lights with Red Lasers, 1.75 Hour Run Time on TLR-2 HL, 1.5 Hour Run Time on TLR-2 HL G
CR123A Lithium Battery
Waterproof to 1 Meter for 30 Minutes
3.99 Inches Long
4.78 Ounces
Limited Lifetime Warranty
Assembled in the USA
From $370.99 at Brownells
Prices accurate at time of publishing
The only real downside to the TLR-2 is the fact that it's one of the most expensive pistol lights on our list, though I found a good deal on mine at Amazon when I bought it. While it's more costly than other options on this list, it's WAY MORE AFFORDABLE than comparable Surefire models with lasers ($500+).
2) Streamlight TLR-1
If you don't want a laser and are looking for a more budget-friendly pistol light, there's the TLR-1. It's basically the same light as the TLR-2 we just covered, just without a laser, so we won't spend too much time covering its features.
The lack of laser gives the TLR-1 the advantage of being slightly shorter than the TLR-2 since nothing is in place of where the laser would be.
Like the TLR-2, the TLR-1 has models available with 300 or 800 lumens (HL) and strobe functionality (S). I'd recommend the TLR-1 HL with Strobe.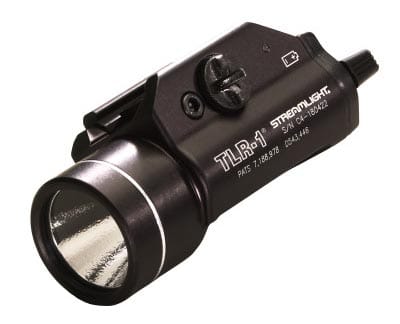 From $149.99 at Brownells
Prices accurate at time of publishing
For those on a budget, I'd recommend avoiding slightly cheaper weapon lights from other manufacturers and going with the Streamlight TLR-1. If you do, you can be confident it will last for years and be functional when you need it.
3) Olight PL-Mini 2 Valkyrie
I'm straying away from Streamlight for my next pick, choosing the Olight PL-Mini 2 Valkyrie as the best compact pistol light.
I first purchased this tiny light because I couldn't find anything that would fit some of my compact and subcompact pistols, like my Walther PPQ Subcompact.
The Olight PL-Mini 2 can fit small pistols so well because it has a rail adapter that's separate from the light. You can move the light forward or backward on the rail adapter, for a better fit and to position the buttons at the optimal distance. This design is pretty ingenious, making the PL-Mini 2 the only light in my collection to fit many of my pistols, plus it makes it easier to access the controls when mounted on all of my guns.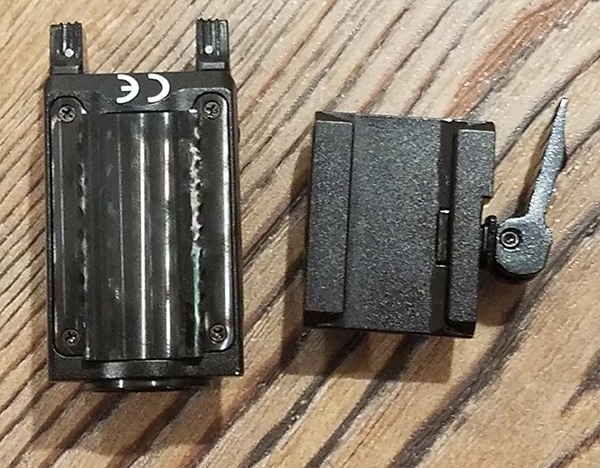 Speaking of the controls, the PL-Mini 2 can be toggled on by quickly pressing one of the buttons on either side of the light or be turned on momentarily by pressing and holding either button. I prefer the controls and feel of the PL-Mini 2 to the Streamlight TLR-7 and TLR-8 (covered below).
As for the light itself, the 600 lumens are easily sufficient for most environments and amazing out of an option this small.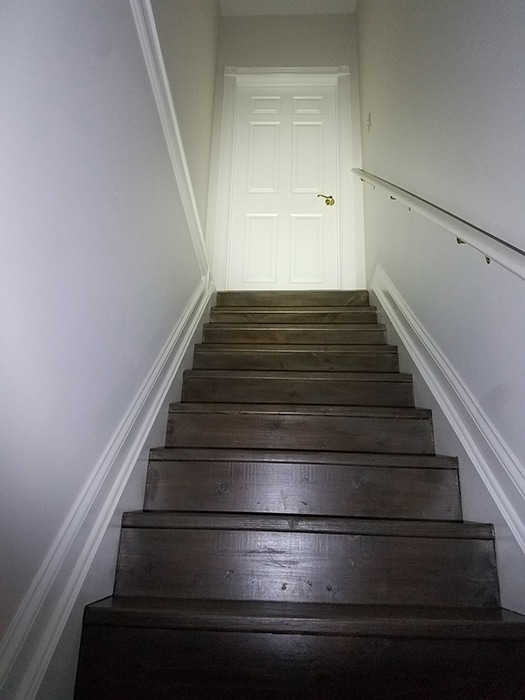 It can easily light up hallways and any rooms in your house.
Compared to larger and more powerful lights, like the TLR-1, the light does spread a lot more and isn't effective to the same types of distances. Still, for concealed carry or home-defense, this should almost certainly be more than enough.
Another unique feature of the PL-Mini 2 Valkyrie is that it comes with a rechargeable battery and magnetic USB charger (shown below).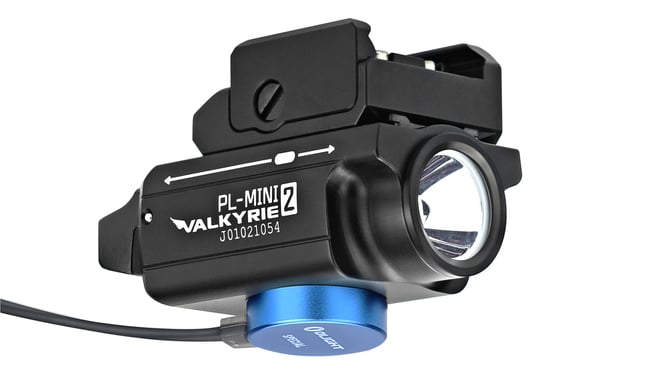 If lights like the Streamlight TLR-1 or Surefire X300 are larger than what you're looking for, then the Olight PL-Mini 2 Valkyrie is likely the best pistol light for you.
600 Lumens
1.5+ Hour Run Time
Rechargeable Custom Li-Ion Battery
IPX6 Waterproof
2.07 Inches Long
2.57 Ounces
My main apprehension about using and recommending the PL-Mini 2 is that Olight has only been around since 2006, so they haven't had enough time to build up their reputation to the levels of Streamlight or Surefire. My Olight has been perfectly reliable in the few months I've had it, and reviews of this light celebrate it around the internet, but only time will truly tell how it holds up.
Because Olight is less popular than manufacturers like Streamlight, it can also be more challenging to find a holster designed to fit it.
4 & 5) Streamlight TLR-7 and TLR-8
No, I promise I'm not a Streamlight shill. I've bought all of these lights myself and have no affiliation with the company... They just make some great pistol lights at reasonable prices that have held up while attached to my handguns for considerable round counts.
Their newest series are the TLR-7 and TLR-8, smaller lights meant to fit compact pistols better, though they are still too large for most subcompact pistols. The TLR-8 is the laser/light version of the TLR-7, in a similar relationship that the TLR-2 has to the TLR-1.
The picture below shows the significant difference in size between the TLR-7/TLR-8 to the TLR-1/TLR-2 models.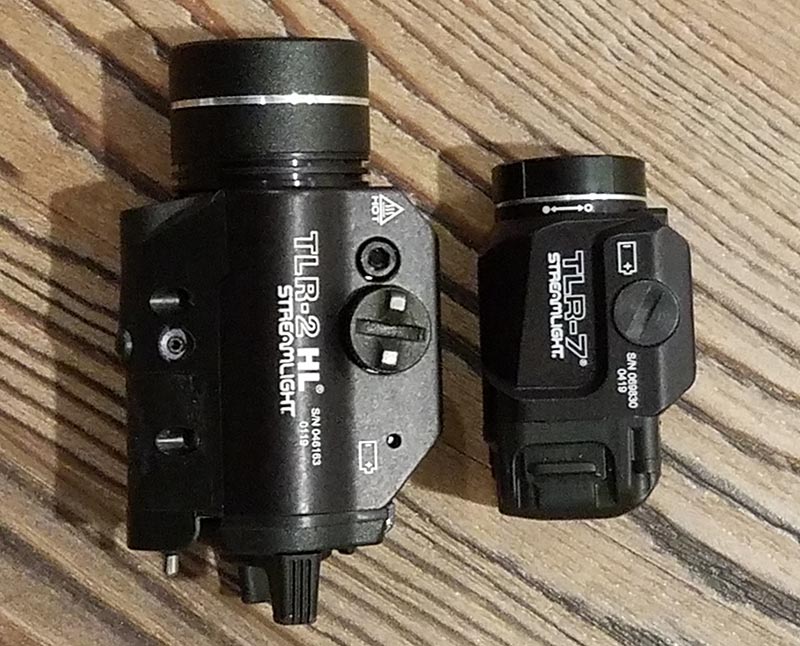 All TLR 7 and TLR-8 models have 500 lumen lights with a strobe function. Though not as bright as the TLR-1/TLR-2, I still think they are bright enough to temporarily affect the vision of an attacker.
Aside from having 300 fewer lumens, you'll also notice from the photos below that the beams are less focused and appear more yellow than white when compared to the lights we've already covered.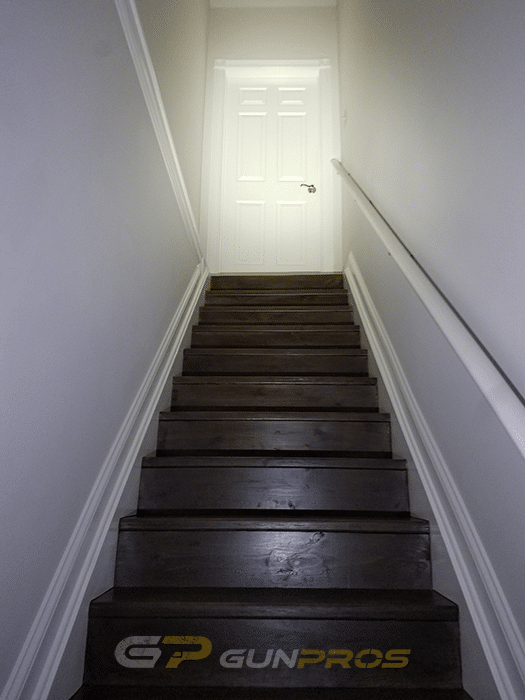 Still, they are bright enough to light up an entire large room, and their beams have less "backsplash" that could negatively affect your sight.
There are buttons on both sides of these pistol lights. Pressing and holding either of the buttons will momentarily turn it on, while quickly pressing and releasing the switches will make the light stay on. Quickly pressing either switch twice will activate the strobe feature (once you've enabled it). They're less easily controlled than the TLR-1/TLR-2s lever system, but I still personally find this light easy to use. I've even seen some other reviewers praise the TLR-7 and TLR-8's controls for being less easily engaged by accident.
TLR-7 on Glock 19
Though I think the Olight Mini-PL 2 is the best pistol light for compact handguns, the TLR-7 and TLR-8 are close rivals. The TLR-8 is also the only of the 3 to have a laser.
Streamlight TLR-7
From $153.49 at Brownells
Prices accurate at time of publishing
500 Lumens
Strobe Function (Requires Activating the Setting)
1.5 Hour Run Time
One CR123A Lithium Battery
Waterproof to 1 Meter for 30 Minutes
2.15 Inches Long
2.4 Ounces
Limited Lifetime Warranty
Assembled in the USA
Streamlight TLR-8
From $248.99 at Brownells
Prices accurate at time of publishing
500 Lumens
Red or Green Laser
Strobe Function (Requires Activating the Setting)
1.5 Hour Run Time (Light Only or Light/Laser), 18 Hour Run Time (Laser Only)
One CR123A Lithium Battery
IPX4 Water Resistant
2.15 Inches Long
2.64 Ounces
Limited Lifetime Warranty
Assembled in the USA
6) Streamlight TLR-6
The TLR-6 from Streamlight is our choice for the best pistol light and laser combo for subcompact pistols. It's specifically designed to fit on various smaller handguns that larger weapon lights won't fit or pistols without traditional rails.
I purchased this light for my SIG Sauer P365 (see Best SIG 365 Accessories) because it was one of the few lights available, plus it was more affordable and had better reviews than the SIG FOXTROT365. The popularity of Streamlight also meant it was easy to find a compatible holster.
It can be turned on by quickly pressing either of the buttons found on both sides of the device or toggled on temporarily by pressing and holding either button. Pressing both buttons simultaneously will cycle through options of just the laser, just the light, or both.
At 100 lumens, it's not the brightest light on the market, but that's likely due to the limitations of making a light this small. The brightness is unlikely to have much of a blinding effect, but it's bright enough to light up any indoor space in my house allowing me to see clearly.
The TLR-6 comes in a universal kit with six body housings, or you can just buy the light/laser with the housing for your specific pistol, including:
From $127.49 at Brownells
Prices accurate at time of publishing
TLR-6 Info:
100 Lumens
Red Laser
1 Hour Run Time With Light only or Light and Laser, 11 Hours Laser Only
Two CR1/3N Lithium Batteries
IPX4 Water-Resistant
2.2"-2.97" Long Depending on Model Housing
1.12 oz - 1.27 oz
Assembled in the USA
7) Ozark Armament Rail Mount LED Pistol Light
Now for a true budget pistol light from Ozark Armament.
I've actually been quite pleasantly surprised by the performance of this 500 lumen light. It's brighter and has a better-focused beam than other super affordable alternatives.
What makes the light stand out as just a budget performer, though is its controls. There's a single button on the left-hand side of the pistol light. It's small and more difficult to find than the higher end options on our list.
The location of the rail slot on the light also makes it impossible to position the light as close as I'd like on many of my handguns.
For these reasons and the fact that Ozark Armament's reliability isn't as established as other brands, I'd reserve this light for recreational tasks.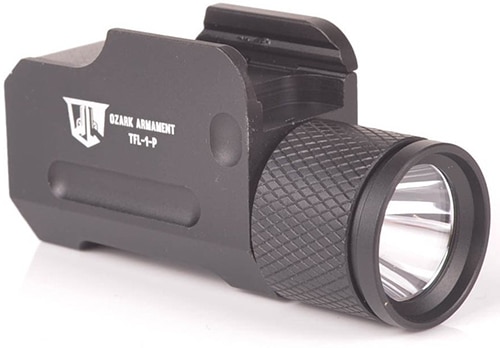 500 Lumens
Strobe Functionality
Sized for full-side pistols
1 CR123A Battery
Lifetime Warranty
8) Surefire X300 Ultra
The 1,000 lumen Surefire X300 Ultra (X300U) series seems to be the preferred choice among those I know in law enforcement. While it's undoubtedly one of the best pistol lights you can buy, I don't think it's worth paying almost double what a TLR-1 HL would cost for most people.
Much of the price is attributed to reputation. A history of excellent performance is crucial in determining the reliability of any firearm accessory, but I'm equally as confident in Streamlight's reliability.
The one major benefit of the X300U compared to the TLR-1 HL is that it offers 1,000 lumens instead of 800. Those primarily planning to use this outdoors or those looking for a duty weapon light may want to consider shelling out the extra money.
X300U Info:
Similar rear toggle controls to the Streamlight TLR-1 and TLR-2, though a bit stiffer.
1,000 Lumen LED Light
1.25 Hours Run Time
2 123A Batteries
Waterproof to 1 Meter for 30 Minutes
3.5 Inches Long
4 Ounces With Batteries
Made in the USA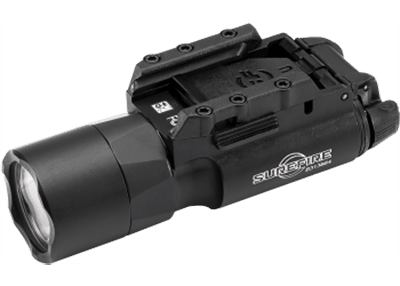 Prices accurate at time of publishing
Surefire also makes the X400 series of lights, which is the laser/light version of the X300.
Summary of the Best Pistol Lights
That concludes our list of the best pistol lights.
If you want to maximize reliability, Surefire and Streamlight are the brands to go for. I'd generally recommend comparable Streamlight models over Surefire, as they tend to be far more affordable.
The TLR-1 HL and TLR-2 HL are the best overall options, with the TLR-6 being our favorite for select subcompact pistols.
Streamlight's TLR-7 and TLR-8 are great choices for compact handguns, but I prefer the Olight PL-Mini 2 Valkyrie for this purpose.
If you noticed brands like InForce were missing, that's because we think our choices offer better value, though there are some other reputable mid to high-end weapon light manufacturers.
Product Name: Streamlight TLR-2 HL
Product Description: The Streamlight TLR-2 HL is a very bright pistol light (800 lumens) combined with a laser. It has fantastic controls that are easily accessible from either side and is backed by Streamlight's rock-solid reputation amassed over nearly 50 years.
Reliability

Controls

Brightness

Beam Focus

Value