Best AR-15 Muzzle Devices (Muzzle Brakes, Flash Hiders, Compensators)
In this article, we will be taking a look at some of the best muzzle devices currently on the market, including the best muzzle brakes, flash hiders/flash suppressors, and compensators.
Muzzle devices are a great upgrade for any AR. Compared to some other AR-15 parts, they are extremely easy to install, they're affordable, and they will immediately improve your rifle's performance.
We'll be covering the best options for all of these types of devices, but let's first quickly go over the pros and cons of each type of device.
The Different Types of Muzzle Devices (Muzzle Brakes, Compensators, Flash Hiders)
Muzzle brakes are small devices which screw onto the end of the barrel, designed to help minimize recoil and muzzle climb. When a rifle is fired, an explosion takes place within the gun that sends propellant gas through the barrel and launches the bullet. The force of the propellant pushing the bullet forward is the same force that causes recoil (the pushback against a shooter's shoulder when the gun is fired) and muzzle rise, also called muzzle flip (the force that causes the muzzle to lift up or rise when the gun is fired).
Muzzle brakes use ventilation ports to direct propellant gas away from the rifle, thereby helping to minimize recoil and reduce muzzle climb. This allows shooters to spend less time recovering from recoil, which speeds up target reacquisition for successive fire. It also helps reduce shooter fatigue.
Muzzle brake designs vary widely, as do performance and quality. We'll be highlighting important features to look for in a good muzzle brake while going through our list.
Most often muzzle brakes direct gas to to the sides, which makes them great for easy shooting AR-15s for the range, long range rifles, or even competitive shooting guns. The downside to this is that the concussive forces are pretty extreme, making muzzle brakes a poor choice for tactical engagements and generally shooting in close proximity to others.
Editors Note: I love Faxon's FX5500, which I bought on a whim at my local shop, but with its 3 prong muzzle brake it's terrible for shooting at indoor ranges unless your goal is to piss off those in the lanes next to you.
Muzzle brakes are also louder than other devices and allow for more muzzle flash than flash suppressors.
A final important thing to note regarding muzzle brakes is that if you ever plan on shooting from a prone position, be sure to avoid muzzle brakes with ventilation ports that point directly toward the ground. These types of brakes will inevitably cause dust and dirt to be kicked into the air, subsequently blocking your vision. This is a good way to immediately identify a poor design.
Compensators perform similarly to muzzle brakes in that they both redirect high-velocity gas. However, muzzle brakes are designed to primarily fight recoil and slightly cut down on muzzle rise. Compensators, by contrast, are designed entirely to fight muzzle rise.
To that end, compensator ventilation systems are designed to direct the propellant gas directly upwards to push back against muzzle rise. This is especially useful when firing shots in quick succession, which is when muzzle climb becomes most intense.
Compensators don't cause side-blast but they do increase the noise generated from the gun and don't help reduce flash.
Flash suppressors, or flash hiders, are primarily designed to preserve a shooter's night vision by reducing or eliminating muzzle flash. They also help to keep shooters hidden from the enemy when firing during nighttime combat, though the value of this tends to be overestimated by those who've never been in battle. Flash hiders work by rapidly cooling the propellant so that it burns with less intensity when it leaves the barrel.
Those who are actually going to be using their rifle for tactical applications or those of you who are building a "SHTF gun" will almost certainty want to use a flash hider.
Many modern muzzle devices are designed with hybrid characteristics, wherein a single device can serve multiple functions at once. In this list, for example, we recommend muzzle brakes that also act as flash hiders or compensators that also act as flash hiders, etc.
The Best AR-15 Muzzle Devices
With that out of the way, here's our picks for the best muzzle brakes, best commentators, best flash hiders, and best hybrid muzzle devices. You'll notice the majority of these picks are actually hybrids, though some of the devices have a specific purpose.
Prices accurate at time of publishing
VG6 Precision Gamma Muzzle Device (Muzzle Brake/Compensator Hybrid)
The VG6 Gamma is an extremely popular muzzle device that was designed using state-of-the-art computational fluid dynamics and computer-aided engineering techniques.
While the Gamma primarily acts as a muzzle brake, you will also likely notice the ventilation ports at the top, which help to reduce muzzle rise. This hybrid functionality helps create an extremely steady shooting experience, allowing for fast and accurate follow-up shots.
The Gamma is made from 17-4ph heat-treated stainless steel and has a black nitride finish with satin gloss. It weighs in at 2.1 ounces and hits an affordable price point. All in all, the Gamma is a great value item, and it's no wonder they are so popular.
Prices accurate at time of publishing
Precision Armament M4-72 Severe-duty Compensator (Muzzle Brake/Compensator Hybrid)
The Precision Armament M4-72 Severe-duty is one of my favorite items on this list. It's a muzzle brake/compensator hybrid that utilizes a triple-baffle design to effectively cut recoil by up to 75%—pretty impressive. It's also extremely lightweight, coming in at only 2.6 ounces.
As mentioned above, this is a hybrid device, with both side and upward ventilation helping to keep not only recoil but also muzzle rise to a minimum. And as the name suggests, the M4-72 'Severe Duty' is extremely durable; it's made from stainless steel and is designed to withstand extreme heat and rugged combat conditions.
There's only one real drawback to the M4-72: its blast volume.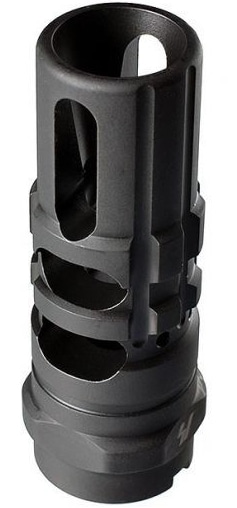 Prices accurate at time of publishing
Strike Industries J-Comp Gen 2 (Muzzle Brake/Compensator Hybrid)
The original J-Comp would have been worthy of being on a list like this, but Strike Industries has raised the bar even higher with the J-Comp Gen2. The first thing that should strike you about the J-Comp Gen2 is its price point, making it perfect for those on a budget.
The J-Comp Gen2 does a better job reducing muzzle rise than the original, and its specialized 2-chamber baffle design works as a brake system to reduce overall recoil as well. As an added bonus, the Gen2 also cuts down on muzzle flash (albeit slightly).
The J-Comp V2 is a fantastic muzzle device; however, it should be noted that higher-end products listed here, like the M4-72, still outperform it on most metrics. It doesn't reduce recoil by 75%, for example, more like somewhere in the low 60s. The J-Comp V2 also produces louder blasts than competitors. Still, it's an amazing deal for the quality that you're getting.
Prices accurate at time of publishing
LANTAC Dragon (Flash Hider/Compensator)
If you've spent any time on AR-15 forums, you have no doubt heard of the Lantac Dragon. It's garnered a lot of hype over the years and is a favorite among experienced shooters.
The Lantac Dragon is a high-performing hybrid muzzle device with muzzle-brake, compensator, and even flash-hiding features. It's lightweight (3.2 ounces) and durable, designed with hardened mil-spec steel, and has a black nitride finish to protect against corrosion. As far as performance goes, the Lantac Dragon is branded to support full-auto fire with massively reduced recoil and muzzle climb, promising all shots will consistently fall on target.
As mentioned above, it does have some flash-hiding capabilities, but they're minimal—so minimal in fact that the Dragon is legal in states like California that have strict flash-hider laws.... As always, LOL California.
The Lantac Dragon is a top-shelf product and comes with a hefty $142.99 price tag, but it's very effective and has long-term durability. I'm not sure it outperforms other products on our list enough to justify the cost, but if you've got the money to spend, then go for it.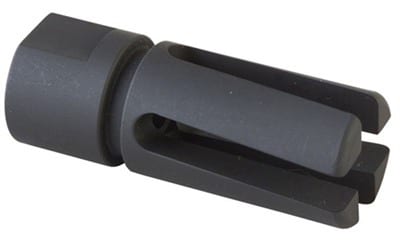 Prices accurate at time of publishing
Smith Vortex Flash Eliminator (Flash Hider)
Smith Enterprises has been refining their Vortex Flash Eliminators for years, and they now make several variants. The Vortex G6A4 is SEI's latest offering and is upgraded with patented "Arc Helix" grooves, which are designed to allow for easy installation/removal of SEI's Windtalker suppressor.
The Vortex uses a shallow pitch-and-groove pattern to reduce surface contact and carbon buildup. Its patented 15-degree helix build guarantees complete propellant burn and negligible flash, significantly outperforming standard "birdcage" or straight-flute designs.
For these reasons, the Vortex is widely considered to be one of the best flash hiders on the market, all while coming in at a modest asking price of $63. Its suppressor compatibility makes it even more appealing for those into tactical shooting.
While the Smith Vortex is a great flash hider, it admittedly does not perform on the same level as one of the top-shelf flash hiders we will be getting to shortly.
Prices accurate at time of publishing
Yankee Hill Machine Phantom 5c2 (Comp/Flash Hider)
The Yankee Hill Machine Phantom 5c2 is another great low-cost muzzle device that functions both as a compensator and a flash hider. In terms of quality and performance, it falls somewhere between the Vortex and the standard A2 birdcage.
While the standard A2 birdcage can effectively reduce muzzle flash, it's often criticized for being terrible at fighting recoil and muzzle rise. The 5c2, on the other hand, does a great job of reducing flash and also features a smart port design that reduces muzzle rise and doesn't kick up dust when shooting from the prone position.
An A2 birdcage typically runs for $9, meanwhile the 5c2 costs closer to $30. For this reason, we thought it wise to make this recommendation to those wishing they could get better performance from a cheap flash hider while still sticking to a budget.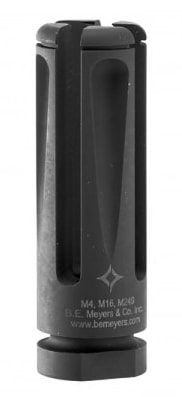 Prices accurate at time of publishing
B.E. Meyers 249F (Flash Hider) - Best Flash Hider
B.E. Meyers has set the standard for flash hiders with its 249F muzzle device. This has been backed up by US Army testing, wherein the 249F outperformed all other tested flash hiders, reportedly eliminating a whopping 96% of all muzzle flash. These results were confirmed by later testing conducted by the United States Joint Special Operations Command. It's for this reason that the 249F has been the go-to flash hider for elite military units for almost 20 years.
Not only does the 249F perform nearly perfectly, but it's also extremely durable. It's constructed with stainless steel and comes with a Melonite finish that is corrosion resistant and adds additional surface hardness. On top of that, the 249F is a modest 2.7" in length and only weighs 3.5 ounces.
There's not much more to add here; if you are looking for the muzzle flash used by the absolute best, look no further.
Prices accurate at time of publishing
DPMS Miculek Compensator (Compensator/Muzzle Brake)
Priced at $40, the DPMS Miculek Compensator is one of the best bargain items on our list. It features three large baffles and six side ports to direct propellant away from the shooter. There's no traditional top ventilation on the DPMS Miculek, but its open design still cuts down on muzzle rise in addition to recoil. It's made with 4140 steel with a manganese phosphate finish and weighs in at 3.6 ounces.
The DPMS Miculek Comp manages to perform nearly on par with trusted best-in-class items like the M4-72, which is remarkable given its price. Definitely check this one out if you aren't looking to break the bank on your next muzzle device purchase.