The Best AR-15 Stripped Upper Receiver Options for 2019
In this guide, I'll be covering our picks for the best AR-15 stripped upper receiver, as well as quickly going over what makes a good stripped upper.
What to Look for When Choosing a Stripped Upper Receiver
We're first going to do a super quick recap of AR uppers for those of you who aren't very familiar with the AR-15 platform. If you already know what to look for in a stripped upper, then feel free to skip right to our list of The Best AR-15 Stripped Upper Receivers.
A complete AR-15 upper includes:
Stripped Upper Receiver
Forward Assist
Dust Cover
Barrel
Gas System
And any sights, optics, or accessories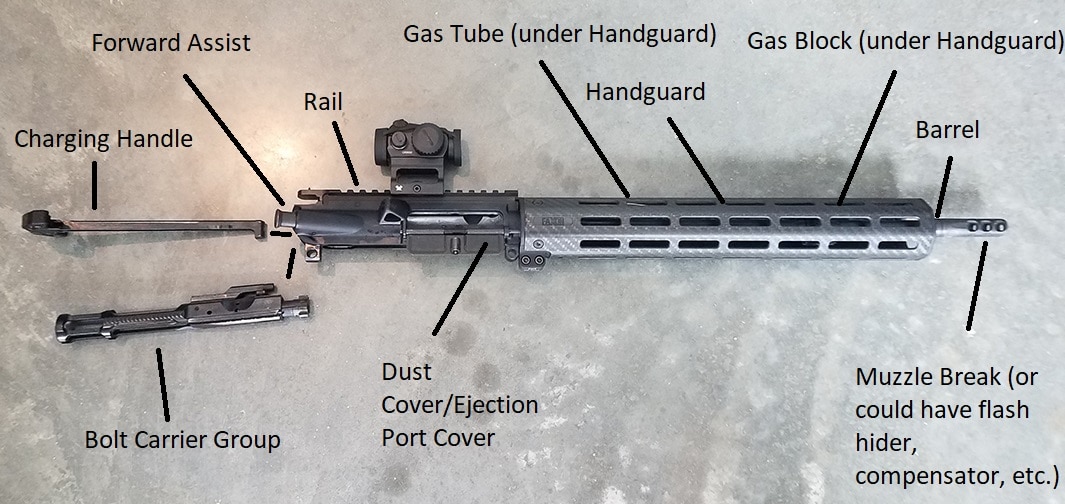 A stripped upper is basically just a hunk of aluminum that houses or is connected to all the other parts.
Generally speaking, that's all you get when purchasing a stripped upper, though some stripped uppers come with a forward assist and dust cover installed.
It's also worth noting that some stripped uppers do not even have a place to install a forward assist, as a forward assist is not necessary for the function of an AR-15. A forward assist is handy, however, in the event your BCG doesn't completely cycle.
Basically, if you plan to use the rifle for combat, competitive shooting, or self-defense, then it's probably a good idea have a forward assist. If the AR-15 you're building is just going to be a range toy and you want a sleeker look to the gun, then it's fine not to use one.
Materials and Manufacturing Processes
In our guide to the best stripped LOWER receivers, we went into more detail on the various materials and manufacturing processes used for receivers. We're not going to go into as much detail, but here's the summary:
7075 (T6) aluminum is stronger than 6061 (T6) without being that much more expensive. Most of the companies we recommend will only use 7075 (T6), but we'd always be sure to look for this when choosing any receiver.
Avoid cast receivers, but forged and billet are both fine options. If you want the strongest, most reliable receiver, go with a 7075 T6 forged option. Billet options are mostly found when looking at uniquely designed or skeletonized receivers.
Feedramps
It's important to match your receiver's feedramps with your barrel extension's feedramps. You'll come across "M4" and "Rifle" style feedramps.
If choosing a receiver with an M4 feedramp, be sure to also get a M4 style barrel extension.
Now onto the best AR-15 stripped upper receivers.
Those who've read our best stripped lower guide will recognize our go-to brands for this best AR-15 stripped upper receiver guide.
Our general guidelines are the same for uppers: choose an affordable 7075 (T6) aluminum receiver from a reputable company. With that being said, we'll also include a few top-tier options and unique designs on this list.
Lastly, we'll be including some receiver sets that include both an upper and lower.
From $79.99 at Aero Precision
Prices accurate at time of publishing
Aero Precision Fully Stripped AR-15 Upper Receivers
Aero Precision is a quality manufacturer of AR-15 parts and even complete rifles.
Their forged 7075 (T6) aluminum stripped upper receivers have M4 feedramps and .250 takedown pin holes.
They seem to fit very well with all lower receivers we've mated them with. They weigh 6.9 oz and are available in black, FDE, OD, tungsten, and burnt bronze Cerakote finishes.
They also offer lower and upper receiver sets in all the aforementioned colors starting at $152.99.
From $99.99 at Aero Precision
Prices accurate at time of publishing
Aero Precision Assembled Uppers
Aero Precision's assembled uppers include an assembled dust cover and forward assist. Unless you're really set on something specific for these parts, I see no reason not to choose an assembled upper over a fully stripped upper.
In total, the assembled upper weighs 8.35 oz and comes in Black, FDE (shown left), OD, tungsten, and burnt bronze.
You can also find receiver sets with the forward assist and dust cover included starting at $165.
From $99.99 at Aero Precision
Prices accurate at time of publishing
Aero Precision Sleek Upper
For those looking for a sleek design—or if you just don't plan to use a forward assist—Aero Precision also has you covered.
As I mentioned in the intro of this guide, I wouldn't recommend this for any AR-15 you plan to use for home defense or as a SHTF gun. Better safe than sorry!
From $119.00 at Rainier Arms
Prices accurate at time of publishing
BCM M4 Upper Receiver
Bravo Company is my go-to for complete upper receivers, so why not also choose a BCM stripped upper.
The BCM M4 upper comes with the forward assist and dust cover assembled.
Like the Aero Precision options, it's made from forged 7075 (T6) aluminum and is meant for barrels with M4 barrel extensions.
From $499.00 at Rainier Arms
Prices accurate at time of publishing
BAD556 Lightweight Receiver Set
Lightweight AR-15s are all the rage these days. Every ounce counts when building a light rifle, and the Battle Arms Development LW receiver set can help you remove 4-6 oz compared to your average receiver set.
The lower receiver weighs 6.84 oz and the upper weighs 6.31 oz. Part of the weight reduction is due to the absence of a forward assist.
It's made from Billet 7075 (T6) aluminum, and the upper has an M4 feedramp.
From $686.76 at Rainier Arms
Prices accurate at time of publishing
V SEVEN 2055 Lithium Aluminum Enlightened AR-15 Receiver Set
For those wanting to go even lighter, there's the V SEVEN Enlightened AR-15 receiver set. It's made from a 2055 aluminum alloy, which has a high lithium content. This alloy is lighter, tougher, and stronger than 7075 aluminum. It's also apparently more expensive, judging by this set's price...
The lower weighs 6.4 oz, while the upper weighs just 5.8 oz. That means it's nearly an ounce lighter than the BAD556, while also being stronger.
Again, as is common with ultra-lightweight receivers, the V SEVEN Enlightened has no forward assist.