Best .22 Rifles for the Money in 2023 [Bolt Action and Semi Auto]
.22 Long Rifle (.22 LR) is the cheapest and easiest to handle round among popular firearm calibers. This makes .22 pistols and rifles great choices for teaching new shooters and for frequently shooting without breaking the bank.
Because of the tremendous popularity of this caliber, there's no shortage of manufacturers making firearms chambered in it. In this guide, we've narrowed down the options to help you find the best .22 LR rifle for your needs and avoid any of the bad options out there.
Preview
S&W M&P 15-22 Sport - The Best Overall .22 Rifle
Ruger 10/22 Series - Most Popular .22 Rifle Series
Ruger Precision - Most Accurate for the Money
Best 22 LR Rifles
This list includes both bolt action and semi-auto rifles (including AR-22s). Here are our choices for the best 22 rifles:
The Ruger 10/22 is currently the most popular .22 LR semi-auto rifle series in the world.
Our favorite option in the series is the 10/22 Takedown. As the name suggests, you can easily separate the 18.5" barrel from the action by pushing a lever and pulling the subassemblies apart.
The overall length of the rifle when assembled is 37", but taken apart the longest piece is just around 19.5". At a total weight of 4.6 lbs, this makes the Ruger 10/22 Takedown very easy to transport and stow.
Though the rimfire .22 LR cartridge isn't exactly known for its reliability, you're unlikely to have any reliability issues related to this rifle. 10/22 models have been around for decades and built up a great reputation over the years.
Prices accurate at time of publishing
Part of what makes the 10/22 so reliable is its precision-rifled cold hammer forged barrel. There's a great chance this barrel outlasts you if properly maintained.
The 10/22 Takedown is available with an 18.5" barrel in the stainless model shown above or a 16.62" barrel that you can see here.
From the factory, you'll get a 10 round magazine, but there are plenty of options from Ruger and aftermarket suppliers if you want magazines with a greater capacity. Check out all of our choices for the Best Ruger 10/22 Magazines.
See all Ruger 10/22 models here.
If you look around this website, it should come as no surprise that we're huge fans of the AR platform. While it may not have the same classic look as some other 22s, the Smith & Wesson M&P 15-22 Sport is our choice for the best 22 rifle, as a semi-automatic option and overall.

Prices accurate at time of publishing
If you've read our guide to the best AR-15 stripped lower receivers, you've read us warning against polymer receivers. This is because the force of the action cycling in a 5.56/.223 rifle can break polymer receivers. When dealing with the far less powerful .22 LR round, however, this is not an issue.
This has allowed the M&P 10-22 Sport to use polymer receivers, making it both lighter and far more affordable than your average AR-15. The rifle weighs just 4.8 lbs.
Like an AR-15, the upper receiver has a Picatinny rail running along the top of it for easily mounting iron sights/backup sights (like the Magpul MBUS set it comes with), red dot sights, and scopes. The 10" handguard has a Picatinny rail running along the top and M-LOK mounting slots around the rest of it, allowing you to mount basically all firearm accessories including lights, lasers, and foregrips.

Not only can you mount the same accessories that you have on your AR-15s, but you can also use many AR-15 parts on the M&P 15-22 Sport. AR-15 pistol grips, collapsible stocks, triggers, many lower parts, and handguards can all be swapped onto the 15-22.
The M&P 15-22 comes with a 25 round magazine, though a number of other magazine options do exist.
Two of the Biggest Reasons We Love the M&P 10-22 Sport
There are two main reasons we chose the M&P sport as the best .22 LR rifle.
Training - Because it's so similar to the AR-15, it lets you practice shooting drills with a rifle close to what you use for competition or self-defense, without the costs of expensive 5.56 or .223 ammo. While it's not a perfect replacement for the real thing, mostly due to differences in recoil, it's better than sitting at home or spending all your cash on ammo.
It's also a great way for training new shooters and children on an easy to handle version of America's most popular rifle.
Survival Rifle - Though I wouldn't consider myself a full-blown prepper, I'd be lying if I didn't say my mind wanders to think about surviving after "S**t hits the fan". Though .22 LR is far from my caliber of choice for self-defense, the M&P sport is a great rifle choice if had to use it in a pinch thanks to its capacity, weight, and accessory mounting options.
Available Models and Designs
The most basic 10-22 Sport model is black and comes with a basic 6 position CAR stock and grip.

Prices accurate at time of publishing
This model is also available in two unique designs: Robin Egg Blue Platinum and Muddy Girl Pink.
Lastly, there's a Matte Black option with an upgrade Magpul MOE stock and pistol grip.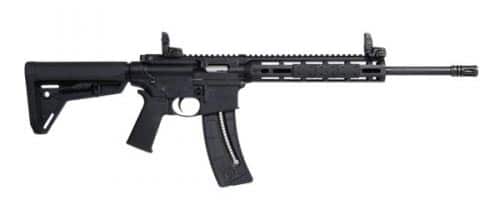 So far we've covered a couple of semi-auto options, so let's move on to a bolt-action .22 rifle.
Some precision bolt-action options will have you shelling out a ton of money, but the MARK II Series by Savage Arms is a great budget-friendly choice starting at just $180.99.
Though they offer a number of different models in the Mark II series, we'll be focusing on the MARK II FV-SR.
Prices accurate at time of publishing
The MARK II FV-SR has a synthetic stock, making it lighter and more affordable than some of their other options. It weighs 5.5 lbs with an overall length of 35.25". The 1:16 twist carbon steel barrel is 16.5" long.
For a rifle this affordable, it actually has a pretty great trigger. The MARK II FV-SR trigger features Savage Arms' Accutrigger technology, which allows you to easily adjust the triggers pull weight without increasing the chances of malfunction.
This rifle comes from the factory with a 5 round magazine and has a rail for mounting a scope.
Overall, this is our choice for the best budget .22 bolt action rifle. It's great for plinking, basic varmint hunting, and safely teaching new shooters.
The Henry AR-7 is without a doubt the most unique 22 rifle on our list.

Prices accurate at time of publishing
If you haven't heard of this rifle before, you might be surprised at our proclamation after seeing the picture above. It looks like a fairly normal .22 LR rifle.
What makes it so unique is that the entire firearm can be broken down and stored in the stock for easy transportation. The picture below shows the firing control group, barrel, and 2 magazines all stored.
This firearm was created in 1959 for Air Force pilots as a compact weapon that could be used in case they needed to eject in hostile environments.
Assembled, the rifle's overall length is 35", but with the 16.5" barrel stowed it's just around 19". The hollow stock helps this semi-auto rifle to be incredibly light, at just 3.5 lbs. It comes with two 8 round magazines.
If you want to buy the absolute most accurate .22 rifle, then you're going to have to go the custom route or spend thousands on an Anschütz rifle.
For the rest of us, there's the Ruger Precision Rimfire Bolt Action Rifle, the most accurate .22 rifle I've shot.

Prices accurate at time of publishing
It has an 18" (1:16 twist rate) cold hammer forged barrel made from 1137 alloy steel. This barrel is most likely more accurate than you are.
The molded one-piece chassis and adjustable stock are made from glass-filled nylon. The stock allows you to easily adjust the length of pull and comb height, while also featuring a flat Picatinny bag rider for optionally attaching a monopod.
For an out of the box rifle, the trigger is exceptional. It can be externally adjusted for a pull weight from 2.25 to 5 lbs. This Ruger Marksman trigger is incredibly crisp and easy to shoot.
The Precision Rimfire has a Picatinny rail scope base with 30 MOA elevation adjustment capabilities and a 15" free-float aluminum handguard with M-LOK slots.
Another great thing about this rifle, compared to some other super accurate .22 rifles, is that it is compatible with readily available 10/22 magazines.
Though perhaps not the most accurate 22 rifle in the world, the Ruger Precision Rimfire is more than sufficient for most peoples hunting, plinking, and even competitive shooting needs.
Summary
That wraps up our list of the best .22 LR rifles.
The Ruger 10/22 is a wildly popular semi-automatic option with a ton of aftermarket support. Those of you who prefer the AR platform may want to go with our personal favorite, the M&P 15-22 Sport.
If compactness for transport is a priority, the Henry AR-7 survival rifle is your best bet.
Those of you looking for a budget bolt action 22 rifle should check out Savage Arms MARK II line, though we'd recommend the Ruger Precision Rimfire Rifle if you're willing to spend an extra couple hundred dollars for greater accuracy and quality.
Product Name: Ruger Precision Rimfire Rifle
Product Description: The Ruger Precision Rimfire bolt action rifle features an adjustable stock and trigger, M-LOK handguard, and an 18" cold hammer forged barrel. It can use any 10/22 magazine and comes with two 10 round magazines. The rifle weighs 6.8 lbs and is 35.13"-38.63" long.
Quality

Accuracy

Value
Summary
The Ruger Precision Rimfire is the most accurate .22 LR rifle at a relatively affordable price point. It features a crisp Ruger Marksman trigger that can be adjusted for pull weights between 2.25 and 5 lbs. The stock, which is one molded piece with the chassis, can be adjusted for both length of pull and comb height. This rifle is perfect for plinking, varmint hunting, and even competitive shooting.
Pros
Very Accurate
Adjustable Stock and Trigger
Cold Hammer Forged Barrel
Uses 10/22 Magazines