[2023] Best Concealed Carry Holsters (Real Experiences, Hands-On Review)
Choosing the best concealed carry holster for your handgun, body shape, and needs is incredibly important.
You probably spent a lot of time and effort deciding what gun to carry, and we'd encourage you to take the same approach when choosing a holster.
The good news is, you've come to the right place! This guide will not only cover our favorite concealed carry holsters, but also go over everything you need to know about the different options, what to look for, and the various ways to concealed carry a firearm.
Preview: Best Concealed Carry Holsters
While we'd encourage you to keep reading to learn more, here's a preview of the best concealed carry holsters for those in a hurry.
Alien Gear ShapeShift IWB
Our picks for the best concealed carry holsters are:
Why Choosing a Good Holster is So Important
A lot is asked from a concealed carry holster.
It needs to:
Retain your firearm and keep it in place when holstered.
Prevent accidental discharges, making sure nobody or nothing (including the holster's materials) is touching the trigger.
Offer quick access to your handgun.
Allow for a full grip so you can easily draw your CCW.
Maintain its structural integrity over time.
Conceal the fact that you're wearing a holstered weapon and avoid "printing" as much as possible.
Do all of the above while being comfortable enough to wear.
Materials
A holster's materials and design will play the most significant role in making sure it hits all of the bullet points above.
In the past, holsters were made entirely of leather. While leather is a comfortable material against your skin, it can wear and sag over time. This affects the integrity of the holster and can make it unsafe.
The picture above, from Imminent Threat Solutions' website, shows a real-world example of a worn-out leather holster that led to an accidental discharge. (Source - Warning: Article includes images of the wound from the accidental discharge.)
Today many holsters still use leather for their backing (the part against your body) but use Kydex or other synthetic materials for the shell/pocket. Kydex is far more rigid than leather and will also hold up better over time.
An example of a holster with a Kydex shell and leather backing is shown below: Crossbreed Holsters MiniTuck IWB, one of the best concealed carry holsters.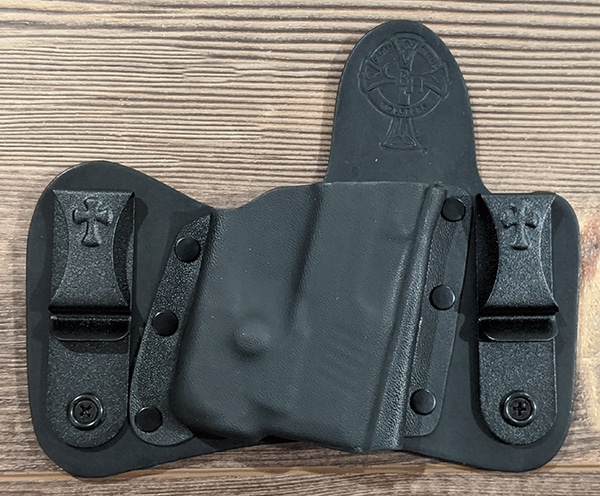 Prices accurate at time of publishing
We strongly recommend choosing a holster that uses Kydex (or a similar material) for at least the shell.
Kydex, however, is not always a comfortable material to have against your body. For many inside the waistband (IWB) holsters, you'll want to consider one with a backing made from leather, neoprene, or another softer material. Small holsters, like those made for appendix carry, can be an exception to this rule, however.
One positive of leather is that it's easy to cut down portions of the backing yourself if you find there's unnecessary material or material that's in the way when trying to get a grip your pistol. Doing so, however, could make a holster unsafe if you cut away portions of the backing that protect the trigger or aid in retention.
Design
No matter what type of holster you choose (we cover the different types below), it needs to do everything on our checklist.
Most importantly, it needs to retain your handgun and prevent access to your handgun's trigger when holstered. Preventing access to your trigger is even more important if you plan to concealed carry a pistol without a manual safety.
The shells of most of the holsters on our list are designed specifically for your firearm, which will offer better retention than a generically designed holster. Your handgun should stay firmly in place and not come out of the holster unless you purposely take it out.
Some manufacturers, like Crossbreed, even build holsters around the accessories you want to have on your pistol.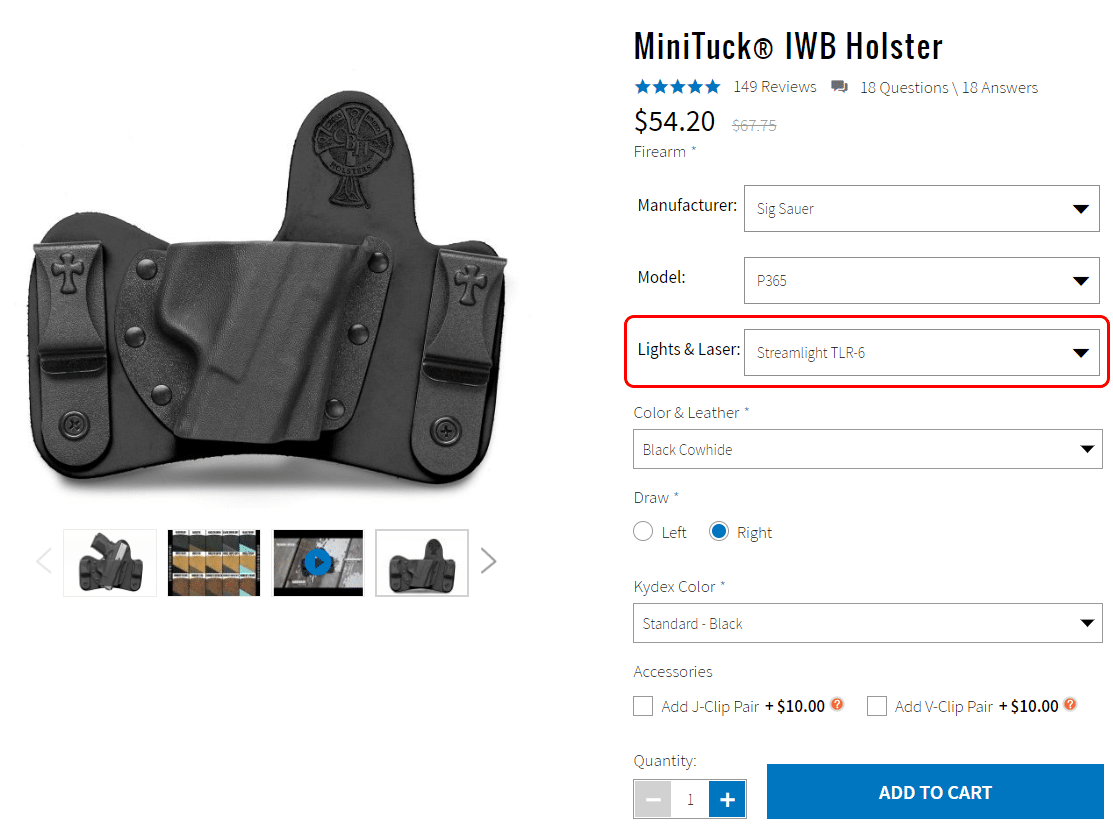 My MiniTuck IWB for my SIG P365, for example, is meant to fit with the Streamlight TLR-6 pistol light attached to it.
The design of your holster also determines how easy it will be to purposefully unholster your firearm. You need to be able to get a full grip on your handgun while it's in the holster so that you can easily remove your handgun and get on target quickly without needing to adjust your grip.
Types of Holsters
There are many different types of concealed carry holsters and open carry holsters. The most popular are:
IWB Holsters (Inside Waistband)
Belly Band Holsters
Shoulder Holsters
Ankle Holsters
OWB Holsters (Outside Waistband) - Mostly For Open Carrying
Below we'll cover some of the pros and cons of each of them. Keep in mind, however, the best concealed carry holster for you will depend on your body type, what you find comfortable, and what allows you to best conceal your CCW.
IWB Holsters and Appendix Carry Holsters
IWB holsters are the most popular option and arguably the best concealed carry holsters for the majority of people. Most people will find that some form of IWB concealed carry works best for them.
The name is pretty self-explanatory. Inside the Waistband (IWB) holsters sit between your pants (shorts, skirt, etc.) and your underwear and undershirt (or skin). I'd recommend wearing an undershirt for maximum comfort.
Alien Gear Holsters
Most IWB holsters are meant to clip onto a belt, though some holster manufacturers make clips designed to attach to your pants for carrying without a belt. Whenever possible, we'd recommend carrying with a belt (particularly a good gun belt) to prevent your pants from sagging. Not only is it annoying and uncomfortable to have sagging pants, but your pants sagging where your gun is carried screams that you're carrying a firearm.
Gun Belt vs Regular Belt, Bigfoot Gun Belts
IWB carry puts your holster and gun very close to your body, making it less likely to "print" when compared to other methods.
IWB holsters can be worn in positions anywhere from the small of your back to your groin. Appendix carry (shown below) usually offers the most concealment, but can be uncomfortable (particularly for people with bigger bellies).
Alien Gear Holsters
Carrying at the 3 o'clock (9 o'clock for left-handed shooters) position can be one of the most comfortable IWB positions, but it's also one of the most likely to print. With your holster and handgun sitting on your hip, the grip of your pistol is likely to show through your shirt.
If not appendix carrying, carrying IWB at the 4-5 o'clock position is usually the best choice. Your firearm remains reasonably accessible when you need it, while also being well concealed and comfortable.
Alien Gear Holsters
IWB holsters come in different forms and sizes. Typically, appendix carry holsters will be smaller and have only one clip or loop to attach to your belt/pants.  Normally, they're made entirely of Kydex, though some appendix carry holsters have backings. They can be worn at other positions, though sometimes less comfortably than larger holsters with a leather or neoprene backing.
Larger holsters usually have two clips and a non-Kydex backing. Their larger size and use of two clips helps distribute the weight of your handgun. Overall, they're usually more comfortable to wear. The downsides are, they're best suited to just the 3:30 to 5 o'clock position and they're a bit more difficult to put on and off.
Prices accurate at time of publishing
Prices accurate at time of publishing
While you could appendix carry larger compact and even full-sized pistols, I'd usually recommend a small subcompact pistol for this concealed carry method. Other positions will likely be more comfortable for larger handguns.
Belly Band Holsters
As is the case with all types of holsters, the name is very descriptive.
Belly band holsters are a band that goes around your waist or belly, with a pocket or shell for your firearm. They're most often used as an option for when you don't want to wear a belt.
If you opt for a belly band holster, we'd strongly recommend choosing a holster system that includes a secured shell made from a hard material that protects the trigger of your CCW. Our favorite is the Crossbreed Belly Band system, which secures a custom holster for your firearm in the band.
Prices accurate at time of publishing
When worn low on your waist, belly bands can come close to IWB holsters in terms of concealment. If worn higher, they're likely to print through your shirt.
Shoulder Holsters
If you want to look like every TV detective ever when carrying your CCW, get a shoulder holster!
Alien Gear ShapeShift Shoulder Holster
But seriously, shoulder holsters are a viable alternative to IWB carry.
Typically, shoulder holsters will wrap around both of your shoulders and under your arms.
Galco Shoulder Holster, Back View
As you've probably guessed, this option only works as a concealed carry holster if you plan on wearing a jacket. While you may find them to be more comfortable than IWB carry, they do have additional drawbacks.
Your firearm will be positioned on the opposite side of your body, usually causing a slower draw. You're also going to muzzle sweep anything behind and to the side of you when you draw.
My final complaint is that it's difficult to find a shoulder holster that properly retains your firearm and protects the trigger. Many manufacturers only make generic holsters, though a few make them with hard shells that fit to your firearm. One example of the latter is Alien Gear's ShapeShift Shoulder Holster.
Ankle Holsters
Another option seen commonly on television and film, though one I think is far less practical than shoulder holsters.
While ankle holsters do a fantastic job at concealment when wearing most pants, they put your gun in a very hard to access position. It's likely to take multiple seconds to access your CCW, while also being incredibly suspicious to anyone you're trying to protect yourself from.
Good for the spy on TV, but probably not the best option for you.
OWB Holsters
OWB Holsters (Outside the Waistband) are usually limited to open carry. However, if you're wearing a large jacket or coat, OWB holsters can sometimes conceal a handgun.
Since this guide is specifically covering the best concealed carry holsters, I won't spend too much time on OWB options.
Even with a jacket or coat, it will probably be very difficult to conceal your firearm in an OWB holster. I also strongly recommend you don't open carry as a civilian if concealed carry is an option.
While it MAY and should be your right where you live to open carry a firearm, there are a number of downsides:
Open carry is likely to make others around you uncomfortable. While I think every law-abiding adult should be able to carry a firearm, you probably don't want those around you to be on edge.
Open carrying puts a target on your back. If a criminal committing a crime sees you have a firearm, you've just become their number one threat to remove.
Open carrying also tells robbers and thieves that you own a firearm, making you a potential target for a crime that wouldn't otherwise have occurred (attempts to steal your gun(s)).
With all of that information out of the way, let's move onto the best concealed carry holsters.
Best IWB Holsters & Appendix Carry Holsters
Since IWB holsters, including those designed for appendix carry, are the most popular type of concealed carry holsters, we'll start with the Best IWB Holsters & Best Appendix Carry Holsters.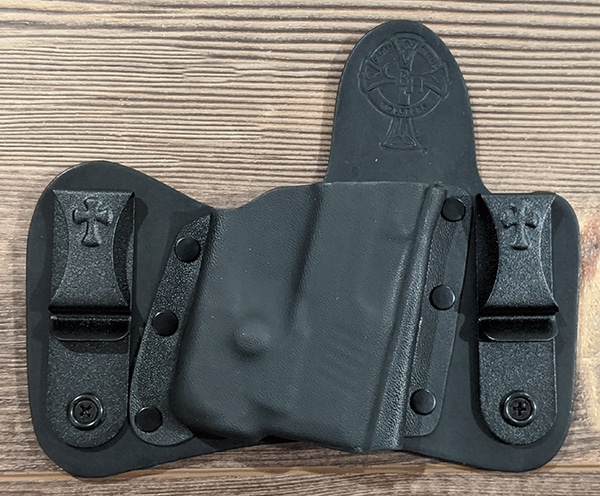 Prices accurate at time of publishing
If you're riding the wave of single-stack subcompact pistols (or double stack pistols as thin as single stacks), then the Crossbreed MiniTuck may be the best holster for you. It's an IWB holster designed to be worn at the 3:30 to 5 o'clock position.
Some of the popular pistols the MiniTuck is made for include:
Glock 42, Glock 43, Glock 43X
SIG P365, P365XL, P938
Springfield Armory Hellcat, Hellcat OSP, XDS
Smith & Wesson M&P Shield, M&P Bodyguard
Ruger LC9s LCP, LC9, SR22
Beretta Pico, Nano
Kahr CM9, CT9, CW9
These are just some of the options. You can find out if the MiniTuck is made for your firearm here.
The MiniTuck is very comfortable to wear and conceals your firearm nicely. The powder-coated steel belt clips are adjustable for cant (carry angle) and ride height.
Most Crossbreed holsters are available with leather or horsehide backings. I find the leather backing on my Crossbreed holsters to cause less sweating than backing materials found on some other holsters if I'm not wearing an undershirt.
The MiniTuck is very similar to Crossbreed's SuperTuck (which we'll cover below). Compared to the SuperTuck, the MiniTuck is a bit smaller overall and the backing has been trimmed down to better accommodate subcompact pistols. Backing material is removed from the grip area and where the barrel may stick out of the Kydex pocket.
This combat cut allows you to get a full grip for easily drawing even very small subcompact pistols.
The Kydex pockets are available in black, FDE, Sniper Grey, OD Green, or Tiffany Blue.
One of the biggest benefits of most Crossbreed holsters, including the MiniTuck, is that their Kydex pockets can be customized to fit many pistol lights/lasers. At checkout on the Crossbreed website, you can select from a number of popular options.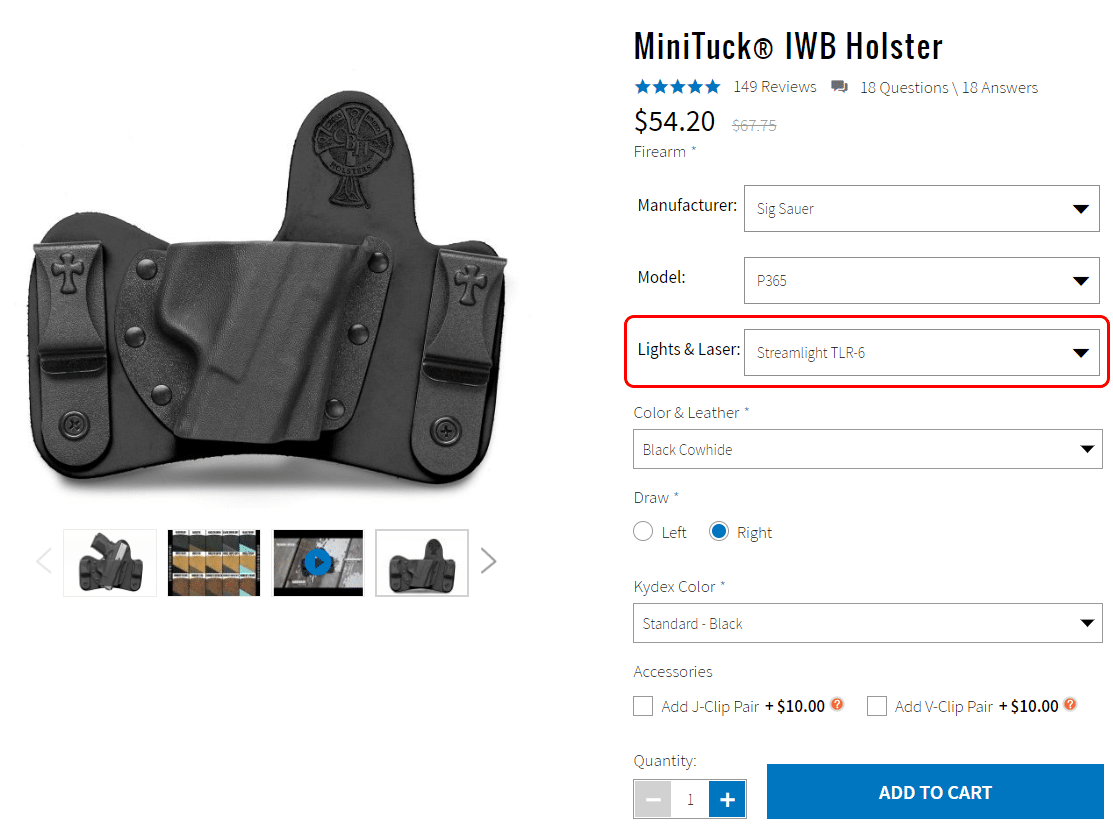 My MiniTuck, for example, fits the SIG Sauer P365 with a Streamlight TLR-6 light/laser.
It is worth noting, Crossbreed uses the lights for retention, meaning the holster can only securely retain my P365 when the TLR-6 is attached.
With the TLR-6 attached, however, the retention is excellent. Your pistol is going nowhere if you don't want it to, but it's easy enough to draw when purposefully doing so.
Prices accurate at time of publishing
The SuperTuck IWB holster is Crossbreed's most popular option. Its overall size is slightly larger than the MiniTuck, allowing it to accommodate both small and larger handguns. While we prefer the MiniTuck for subcompact pistols, the SuperTuck is great for compact and full-size handguns.
Like the MiniTuck, the SuperTuck is also designed to be carried at the 3:30 to 5 o'clock or 7 to 8:30 o'clock positions (depending on your draw side).
Prices accurate at time of publishing
The SuperTuck's Kydex shells are made for your specific handgun. Nearly all popular pistols are supported by Crossbreed.
Here are a just some of the firearms you may own that the SuperTuck is made for:
Glock 19, Glock 17, and Almost All Other Glocks
SIG Sauer P320 (Full-Size, Compact, Carry, etc.), P365, P365XL, P220, P238, and Many More
Springfield XDM, XDE, XDS, Hellcat
1911 Pistols
Smith & Wesson Pistols
Ruger Pistols
Kahr Pistols
Beretta 92, PX4 Storm, APX
CZ 75, P-09
H&K 45, P2000, USP 9, VP9
IWI Jericho, Masada
Kahr Pistols
You can check here to see if Crossbreed makes the SuperTuck for your handgun.
The available materials for SuperTuck holsters are the same as what's available for the MiniTuck.
While there are some strong competitors, We The People Holsters make my current pick for the overall best concealed carry holster. It's an IWB holster that I like best for appendix carry, though it's able to be worn at any position.
Prices accurate at time of publishing
So what makes this the best appendix carry holster and a fantastic option for any type of IWB carry?
The most noteworthy "feature" of this holster is its simple design. Unlike options from other manufacturers, there seems to be no unnecessary materials used. The result is an incredibly sleek, lightweight, and practical holster.
While still protecting your pistol's trigger, this holster is cut to expose the trigger guard.
This allows you to get a perfect full grip for easily drawing your CCW.
In the picture above, note that the Kydex rides higher on the side against your body. This sweat guard prevents sweat from getting onto your gun's slide, while also preventing your slide from contacting your body.
Despite its minimalist design, it still has perfect retention when properly adjusted. Retention adjustments can be made with the screw at the bottom of the holster.
Ride height and cant are also adjustable by moving the position of the clip. This helps make the holster work for nearly any IWB carry position. See the GIF below for the available options.
While other holsters have leather or neoprene backings, this holster is made entirely of Kydex. Because the holster is so small, I've found it to still be comfortable enough to wear (mostly appendix carrying).
The wide single clip also does a fantastic job of keeping the holster firmly attached to your belt, unlike some of the other single clip holsters I've used.
It's available in a variety of designs, my favorite of which is carbon fiber.
We The People also make some models designed to fit pistols with lights attached to them.
To find these, try their websites search or find the manufacturer of your handgun, then look through the available options.
Lastly, in addition to being one of the best concealed carry holsters, it's also one of the most affordable!
Prices accurate at time of publishing
The Alien Gear Shapeshift 4.0 IWB holster is, without a doubt the most unique option on our list and a strong contender for the best concealed carry holster.
Perhaps the most distinctive feature of the ShapeShift 4.0 IWB, compared to other holsters on our list, is that the Polymer shell completely covers your trigger from both sides.
This allows the shell to only be attached at a single mounting point so that the backing can better conform to your body. It can do this while keeping your trigger fully protected.
The backing has a small steel-reinforced base to maintain rigidity behind the shell, but a layer of breathable neoprene will be the only thing you feel against your body.
Retention can be adjusted using one of the locking knobs on your holster or the extra knob provided with it. You have a lot of flexibility here to dial in the retention perfectly. When holstering your handgun, you'll hear a very noticeable audible click when it's properly secured.
The clips can be adjusted without tools to change your cant and ride height.
The Kydex shell and backing are cut to allow a perfect full grip.
All in all, the IWB ShapeShift 4.0 is one of the best concealed carry holsters for carrying at positions like 3:30 to 5 o'clock. It's extremely comfortable, does a great job at concealment, and is highly adjustable.
Alien Gear ShapeShift Appendix Carry Holster
Alien Gear also has an AIWB holster in their ShapeShift line. It offers the same soft and breathable neoprene backing as the holster above.
While the backing may feel comfortable against your skin, this holster is far too bulky and likely to print for my tastes.
Concealment Express makes two incredibly popular Kydex holsters, similar to the IWB holster from We The People Above. Holsters from both manufacturers are fantastic options and similar in many ways.
It's tough to say one manufacturer is better than the other overall, but each has some slight benefits when compared to the other. Concealment Express could have just as easily been my choice for the best appendix carry holster or the overall best concealed carry holster.
Concealment Express IWB Holster
$41.95 at Concealment Express
Prices accurate at time of publishing
Concealment Express Tuckable IWB
$46.95 at Concealment Express
Prices accurate at time of publishing
To start, both of these options from Concealment Express are incredibly affordable and highly regarded.
They have tens of thousands of positive reviews on both their website and Amazon. Based on this, they're without a doubt the most popular holster manufacturer I've come across.
Like the We The People IWB holster above, Concealment Express has made two super sleek options.
They're cut so your trigger guard is flush with the holster, allowing you to get a good high grip.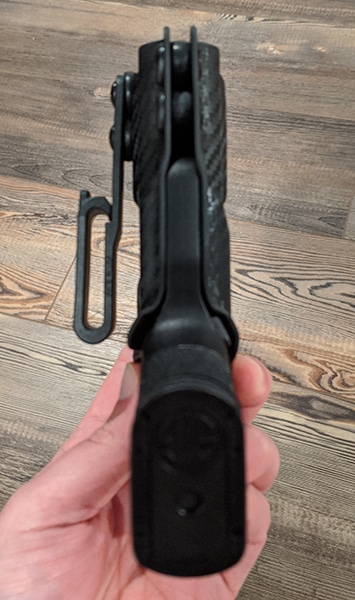 One unique feature of both of these models from Concealment Express is that, depending on your firearm, they partially or completely cover your pistol's magazine release button.
Many people love this feature, as it helps prevent accidentally dropping your magazine while drawing your pistol. It also protects the magazine release from your body and clothing.
While this was a selling point for many others who have purchased these holsters, I'm actually not a fan of this. For me, the way these holsters are cut to accommodate this feature does more harm than good.
It forces a slightly more awkward grip to draw my pistol. Getting your thumb involved in your grip is difficult, especially with a small pistol like the SIG P365. I have to be careful to only partially use my thumb on the uncovered portion of my pistol. Otherwise, I have a tendency to forcefully clamp down on the holster with my thumb making drawing my handgun more difficult and awkward.
The picture below shows how little room there would be to get your thumb involved with the Tuckable IWB for the P365.
This would likely never be a huge issue using this holster and you could certainly chalk it up to user error on my part. With that said, I personally prefer to avoid it since this seems to be a problem I have with Concealment Express holsters.
Keep in mind, a tremendous amount of people love these holsters and even this particular feature, so take this with a grain of salt. It's a small issue and it could be unique to me, my firearm, and how I draw it.
One thing I absolutely love about these holsters is their "POSI-CLICK". You'll hear an extremely noticeable click when you've securely holstered your handgun.
Another awesome thing about Concealment Express is they offer a Tuckable IWB model. The design of the clip allows you to tuck your shirt into your pants with your firearm/holster under your shirt. This allows those who like or have to tuck in their shirts to still concealed carry IWB.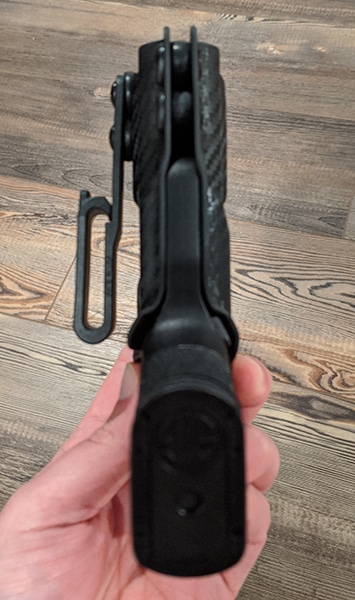 Both IWB holster models can be worn at any position in the waistband, though I like them best for appendix carry. The cant of both holsters is adjustable, and the ride height of the Tuckable model can be adjusted.
Concealment Express IWB Holster
$41.95 at Concealment Express
Prices accurate at time of publishing
Concealment Express Tuckable IWB
$46.95 at Concealment Express
Prices accurate at time of publishing
Best Belly Band Holster
In my opinion, belly band holster systems are an incredibly underappreciated way to concealed carry handguns for both men and women. They can offer fantastic concealment and incredible comfort, despite not requiring you to wear a belt.
With that said, my major complaint of many belly band setups is that they don't offer very good trigger protection. Most belly band systems are universal soft holsters. In other words, they lack a secure shell to retain your firearm and protect your trigger.
Our choice for the best belly band holster, the Crossbreed Modular Belly Band Package, solves these issues.
$74.95 at Crossbreed Holsters
Prices accurate at time of publishing
Crossbreed's modular belly band package features two main pieces; The belly band itself and a Kydex holster fit specifically to your firearm.
The belly band comes in 4 sizes:
Small (28-34")
Medium (34-42")
Large (42-52")
Xtra Large (46-66")
As you can see in the picture above, the band has numerous Velcro patches. This not only lets you secure the band around your waist, but it also holds your holster in place.
The backside of the holster is covered in Velcro so that it securely sticks to the belly band. The belly band is then fastened over the holster, sandwiching it in place. Combined, this keeps your Kydex holster firmly in place.
For a clearer idea of exactly how this works, check out this video.
To be honest, I didn't envision myself using this too often when I purchased it to review. After testing it and experiencing how comfortable it is, however, it's become a part of my regular rotation depending on what I'm wearing. It's also completely changed my view of belly band holsters in general.
You might be concerned with how the Velcro will hold up over time, but I'm not too concerned and expect it to stay functional for quite some time. The Velcro on mine still gives me the same security as when I purchased it.
As is the case with most holsters from Crossbreed, you can select from various handgun attachments you plan to run on your handgun at checkout. Again, mine is made for a SIG P365 with a TLR-6 light.
Like the IWB holsters from Crossbreed, this belly band holster shell uses attachments for retention.
If you're in the market specifically for a belly band holster or are looking for an alternative to normal IWB carry, I'd strongly consider the Crossbreed Modular Belly Band Package. It's our choice for the best belly band holster and is one of the best concealed carry holsters overall.
Best Shoulder Holster
As I previously mentioned, I'm not a huge fan of shoulder holsters. They usually don't make your CCW very accessible. Your draw will also be slower than with other concealed carry methods because you'll have to draw from the opposite side of your body. You're also likely to muzzle sweep things you don't want to shoot behind you and to your left side (if right-handed).
Another major complaint is that most shoulder holsters don't have a hard shell to protect your firearm's trigger and securely retain it.
Alien Gear makes one of the few shoulder holsters with any type of shell. More specifically, the ShapeShift half shell.
This makes it one of the few shoulder holsters I'd actually feel comfortable using.
Wrapping Up
For maximum concealment, the best way to concealed carry is IWB/Appendix carry. The best concealed carry holsters for this are:
We The Peoples IWB
Crossbreed MiniTuck
Crossbreed SuperTuck
AlienGear ShapeShift 4.0 IWB
Concealment Express IWB
A good belly band holster can be a great alternative to IWB carry when you're not wearing a belt. For this, we love Crossbreed's modular belly band system.
We The People IWB Holster
Product Name: We The People IWB
Product Description: We The People Holsters make our favorite IWB concealed carry option. It's a super sleek choice perfect for appendix carry. The ultra-minimalist design makes this all Kydex holster comfortable and allows you to reliably draw your CCW.
Concealment

Comfort

Function

Value