Best Budget Red Dot Sight Under $200 and $100 for your AR-15, Pistol, or Anything Else
If you've shot using both iron sights and a red dot sight, it probably didn't take long to see the benefits of the latter option. Red dots offer faster target acquisition and a better overall shooting experience compared to irons.
Unfortunately, quality red dot sights have historically been priced outside of many shooters' budgets. While the best red dot sights still usually cost $400+, budget manufacturers have come a long way in the quality they offer, and there are some great options available today.
In this guide, I'll be covering the best budget red dot sights under $200 for your AR-15, pistol, or any other gun. For those of you looking to spend as little as possible, I'll even cover some options approaching and below $100.
Preview
For those of you in a hurry, here's a quick preview of our picks.
Holosun HS403C - Best Rifle Red Dot Under $200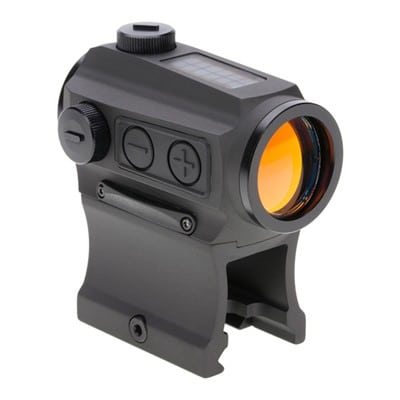 Vortex Venom - Best Pistol Red Dot Under $200
Ozark Armarment Rhino - Best Red Dot Under $100
The best red dot sights under $200 are:
Holosun HS403C
Holosun HS403B
Vortex Venom
Vortex Sparc II
Vortex Crossfire
Ozark Armament Rhino
Bushnell TRS-25
Quick Note on Price Variability - Prices on all firearm products and accessories tend to vary a great deal. Though they've generally been trending downward, there is a chance some of our picks might be slightly above of our $200 limit when you read this.
Holosun
When it comes to budget red dot sights for rifles and carbines, Holosun is currently my favorite manufacturer. Here's why:
For starters, they have a wide range of products priced under $200. Furthermore, based on our own testing and use, plus what we've gathered looking through other research, they're generally the most durable brand among budget options.
Finally, some of their products also come packed with features not found elsewhere, even on some higher-end optics. Many of these features are geared towards expanding battery life (up to 50,000+ hours), something that was unheard of in the past for budget optics.
All of these things combined make Holosun a great choice for a budget red dot sight that you can use for the range, self-defense, or just about anything else.
Holosun HS403C - The Best Overall Red Dot Sight Under $200
After reviewing countless options, I've chosen Holosun's HS403C as the best red dot sight under $200 for an AR-15 or another rifle/long gun.
Holosun is famous for its "Solar Failsafe" technology, which is included as a feature of the HS403C. It allows the optic to use energy from light, both natural and artificial, to power it. It can also use battery power in low light conditions.
These two power sources act as a backup for each other, meaning the sight should always be powered. The solar array atop the sight also acts as a light sensor to automatically adjust the brightness of the optic to your surroundings.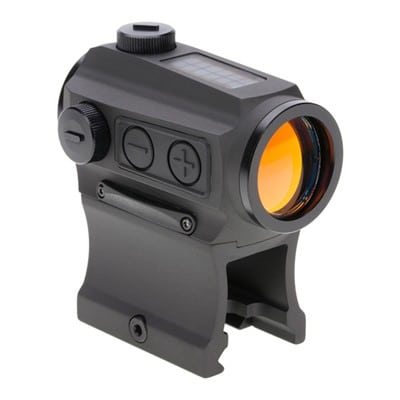 Prices accurate at time of publishing
According to Holosun, the battery life alone can power the HS403C up to 50,000 hours, though they do not specify on what brightness level. With that said, I'm confident my HS403C should have no problems always being kept on with the automatic adjustment feature for at least a year. I'd replace the battery at this point as a precaution if you plan to use this for anything serious.
Solar and battery powered
Up to 50,000 hours of battery life
Automatic or manual brightness adjustments
2 Night vision settings
2 MOA dot size
20mm window
Comes with low mount and lower 1/3 co-witness mount
Weighs 4.3 oz
2.44" X 1.18" X 1.45"
6061 aluminum housing
Functional between temperatures of -22°F to 140°F
Submersible up to 1 meter for half an hour
0.5 MOA adjustments
Holosun HS403B
The HS403B is basically the HS403C without the Solar Failsafe technology. This missing feature does, however, lead to it being even cheaper in price.
With its default settings, it automatically "goes to sleep" after 8 hours, but it turns back on if it senses any movement.
Prices accurate at time of publishing
Vortex
Vortex is another optic manufacturer that I'm a huge fan of. I've used everything from their red dot sights to rifle scopes and binoculars.
The company has a wide range of products at varying price ranges, including budget red dot sights around or under $200.
What really separates Vortex from other budget manufacturers is their quality control and warranty. I've never had any issues with Vortex products, but even if I did, they have a no questions asked warranty.
Vortex Venom - Best Budget Pistol Red Dot Sights Around $200
Okay, this one isn't always priced under $200, but it's usually right around there. In addition to a pistol light, a red dot sight is one of the best accessories you can add to any pistol and the Vortex Venom let's you do this at an affordable price.
Prices accurate at time of publishing
The Venom is available with either a 3 MOA or 6 MOA dot size. While it's most often used for pistols, it also comes with a Picatinny mount for use on rifles, shotguns, and carbines.
It uses a CR 1632 battery that can last up to 30,000 hours on the lowest setting and 150 hours on the brightest setting. The Venom has 10 brightness settings in total, and it offers automatic brightness adjustments, as well as an automatic shutoff after 14 hours. I also love that the battery can be replaced from the top without needing to remove the optic.
Vortex's Venom sight has an ultra-low profile and weighs just 1.1 oz.
Vortex Sparc II
The Sparc II is likely the most rugged red dot sight you'll find for under $200; its robust housing and protective lens covers make it feel like the most durable choice on our list. It's also the largest optic we'll be covering in this guide (3.1" long by 1.1" tall, weighs 5.9 oz).
In terms of performance, the Sparc II has exceptionally clear glass, especially for an optic at this price range, with a 22mm objective lens.
Unfortunately, the Sparc AR is missing some of the features found in the similarly priced Holosun HS403C. The battery life is only 300 hours at max brightness and 5,000 hours at minimum brightness. It has an automatic shutoff feature after 12 hours but does not have motion sensors to turn back on like the HS403B.
Personally, I prefer an optic I can always leave on and be sure it'll have power for use on a self-defense rifle, leaving me favoring the Holosun options above for use on my AR-15.
With that said, the Sparc II is a good choice if Vortex's lifetime warranty is important to you.
2 MOA Dot
10 Brightness Levels
1 MOA windage and elevation adjustments
Absolute and Lower 1/3 co-witness mounting heights
Waterproof and Shockproof
Vortex Crossfire
Priced below the Sparc II, the Vortex Crossfire is my favorite budget red dot sight for target practice and casual use.
It actually offers far better battery life than the SPARC II at 50,000 hours on its medium brightness setting according to its manual. This setting is plenty bright for most indoor use or cloudy days. Though it doesn't have an auto-shutoff feature, you can turn it off by moving the dial between any of its 11 brightness settings. This makes it easier to quickly turn it on to the same setting you last used.
Prices accurate at time of publishing
I bought this for the lightweight AR-15 I use for plinking because it was so affordable, but it's also a reasonable option for a budget home-defense red dot sight.
2 MOA Dot
11 Brightness Settings
Up to 50,000 hours of battery life
1 MOA Adjustments
2.5" Long by 1.1" Tall
5.2 oz
Clear Glass
Skeletonized Lower 1/3 Mount
Waterproof
Ozark Armament Rhino - Best Red Dot Sight Under $100
While there's no perfect option priced this low, the Ozark Armament Rhino is the best red dot sight under $100 that I've used.
Relative to other ultra budget options, it feels rugged. The manufacturer also claims it's able to handle recoil up to 50 BMG. While I haven't tested it to those extremes, it's done a relatively fine job maintaining zero on my AR-15s.
It has both a red and green 4 MOA dot with 5 brightness settings each. The sight picture isn't the best, but I like it more than other options under $100.
My only complaint is that the mount it comes with doesn't seem to be a perfect fit.
With that said, it's the best option I've found at such a low price.
Both Red and Green Dots In the Same Sight.
4 MOA Dot Size Brightness Settings for Each Color Dot.
Up to 3,000 Hours of Battery Life at Medium Setting (1 CR2032 Lithium Battery).
28mm Objective Lens
9.7 oz w/ Lower 1/3 Mount
Roughly 5" Long w/ Lower 1/3 Mount
0.5 MOA Windage and Elevation Adjustments
Bushnell TRS-25
There aren't a lot of great options for red dot sights under $100, but the Bushnell TRS-25 is worth considering for casual range use. I wouldn't bet my life on it, but it gets the job done for plinking when you're on a tight budget and don't want to use iron sights.
I bought this awhile ago because it was a best seller on Amazon. It was my first dip into sub $100 optics, but I've been pleasantly surprised that it's held up as long as it has.
The fact that Bushnell is known for making great optic devices in other categories, such as the best golf rangefinders, also improves my confidence in this budget red dot sight option.
3 MOA Dot
11 Brightness Settings
25mm Objective Lens
2.48" Long
4.0 oz
It does not come with a mount, but you can pair it with this cheap Picatinny Short Riser Mount.
Conclusion
If you're on a budget, I'd choose the Holosun HS403C. In my mind, it's the best red dot sight under $200. If you're looking to save a bit more, Holosun's HS40B and Vortex's Crossfire are other great options.
Under $100, you have the Bushnell TRS-25, but it's a noticeable downgrade from the other options on our list.
Holosun HS403C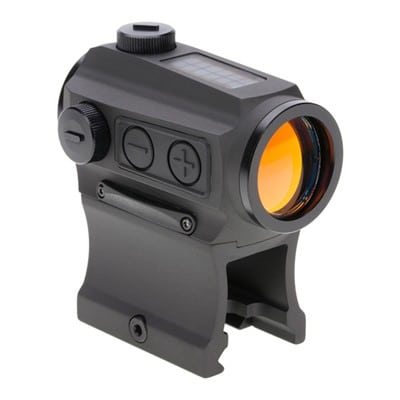 Product Name: Holosun HS403C
Product Description: The Holosun HS403C is a dual powered red dot sight that can use both solar power and battery power.
Sight Picture

Usability

Durability

Reliability

Battery Life

Value
Summary
The Holosun HS403C is our choice for the best red dot sight under $200. This dual powered optic should maintain battery life better than any other optic at this price range. It also has the best sight picture and is the most enjoyable to use.
Features:
4.3 oz
2.44″ x 1.18″ x 1.45″ (L x W x H)
20mm Objective Lens
2 MOA Dot Size w/ 12 Brightness Settings
Night Vision Compatible w/ 2 NV Brightness Settings
Solar and Battery Powered
Up to 50,000 Hours of Battery Life
Waterproof to 1 Meter
-22°F to +140°F Temperature Operating Range
Pros
Solar and Battery Powered
Up to 50,000 Hours of Battery Life
Best Sight Picture for Red Dot Sights in this Price Range
100% Reliable in Our Use
Cons
The Mount Feels Like a Potential Weak Point Durability Wise