Best SIG P365 Accessories and Upgrades [2023 Round-Up]
Since its release in 2018, the SIG Sauer P365 has taken the concealed carry world by storm. With its impressive capacity in such a small package, it's completely transformed what is possible and now expected from slim subcompact pistols.
In this guide, I'll cover the best SIG P365 accessories and upgrades to get the most out of your pistol. Included is the best P365 light and holsters, plus some parts to boost performance.
Best SIG P365 Accessories and Upgrades
The best P365 accessories and upgrades are:
Prices accurate at time of publishing
We view the TLR-6 as the obvious choice for the best light for the SIG P365.
A good weapon light/laser is one of the best accessories that you can add to any firearm. A light will, of course, help you clearly identify your target in dark environments. Lights also potentially give you the element of surprise by putting a light source at your fingertips.
Because the TLR-6 had to be small enough to fit the P365, it's not the most powerful weapon light around. With that said, the 100 lumens it produces are still bright enough to light up a completely dark large room.
The TLR-6 doubles as both a light and a laser. You can use just one or both at the same time. If properly zero'd, the laser acts as a great secondary way to aim. For self-defense situations, I see it most useful as a way to maintain focus on your target as you scan your surroundings for other threats.
Lasers are also useful training tools that I've used to help improve the accuracy of friends who are new to shooting. They can help you identify issues you may have, like flinching before you pull the trigger.
The TLR-6 has push-button controls on both sides of the light's housing. Pressing both buttons simultaneously will swap through its options (laser only, light only, or both).
You can press and hold either button to turn it on momentarily until you release the button. Quickly pressing either button will make it stay on until you press either button again.
If you've checked out our guide to the best pistol lights, it should come as no surprise seeing us choose the Streamlight TLR-6 as the best light for the SIG P365.
Streamlight, along with Surefire, are the clear cut manufacturers to choose from if you're looking for a reputable weapon light. Both have a long history of proving the reliability of their products. We tend to prefer Streamlight, as their products are more affordable.
Since the P365 is such a small pistol that can't accommodate a standard rail, light manufacturers need to create lights specifically designed to fit it. This limits your options, as manufacturers like Surefire have not made a light for the P365.
Fortunately, the Streamlight TLR-6 should handle your all needs. It's not only the best light for the SIG P365 but one of the first P365 accessories we'd consider adding to your firearm.
It's also popular enough that some holster manufacturers (see below) make holsters designed for the P365 with a TLR-6 attached.
Prices accurate at time of publishing
Concealed Carry Holsters
Considering the size of the P365, there's a great chance that you purchased it to use for concealed carry. If that's the case, a quality holster is not just one of the best SIG P365 accessories you can buy, but a necessity for safely concealed carrying.
If you don't plan to add any accessories to your pistol (like lights), We The People Holsters arguably make the best holster for the SIG P365 (here) and P365 XL (here).
Prices accurate at time of publishing
You probably bought the P365 because it was small and easy to conceal, so why buy a bulky holster?
This IWB holster is not that. Instead, it's the most minimalist holster I've found for the SIG P365. The Kydex, cut specifically for the P365, does only what you need it to. It securely retains your pistol and protects the trigger. There are virtually no unnecessary materials. The thickness of the Kydex is just .08 inches.
I like this holster best for appendix carry, but it can also be used for inside the waistband carry at other positions. Both the ride height and cant are adjustable by adjusting the position of the clip.
We The People Holsters makes this model for both right-handed and left-handed draws. You can also choose between a variety of colors and designs (mine in the picture above is their Carbon Fiber design).
The Crossbreed Holsters MiniTuck is another contender for the best holster for the SIG P365, P365 XL, and P365 SAS.
It's a more robust IWB holster, designed for carrying at the 3:30 to 5 o'clock position (for right-handed draws) or the 7 to 8:30 position (for left-handed draws).
Prices accurate at time of publishing
One thing that sets Crossbreed Holsters apart from the competition is that many of their holsters, including the MiniTuck, can be customized to fit around the accessories of your firearm.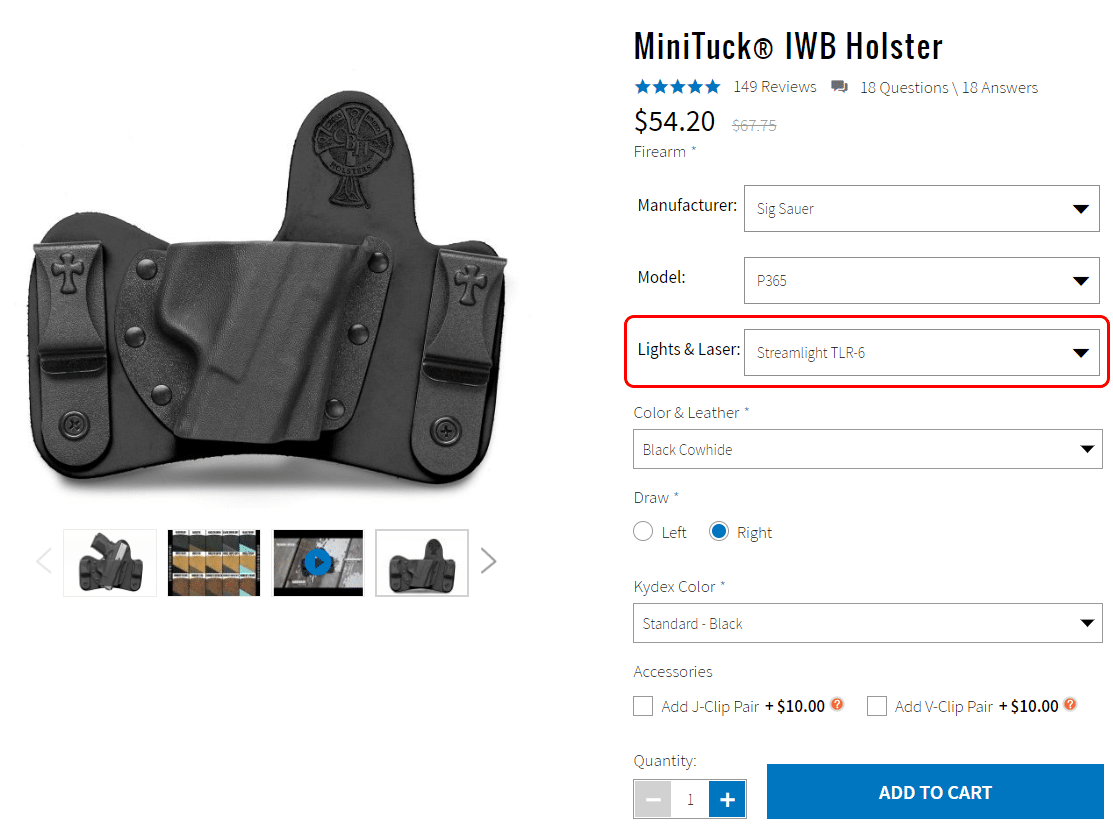 If you took our recommendation to add the Streamlight TLR-6 to your SIG P365, you can get a MiniTuck with Kydex formed to fit around it.
You can choose between leather and horsehide backings, all of which are more comfortable against your body than pure Kydex holsters.
If you want to compare more holsters for the P365, check out our round up of the Best Sig P365 Holsters.
What makes this pistol so special is its magazine capacity. Despite being smaller and thinner than many single-stack pistols, the double-stack P365 holds 10 rounds with a flush magazine and 12 rounds with the typical extended mag.
Recently, however, SIG Sauer came out with a larger 15 round extended magazine. You probably won't want to have this loaded into your pistol for concealed carry (longer and harder to conceal), but it's fantastic as a backup magazine or for using at the range.
$39.99 at GunMag Warehouse
Prices accurate at time of publishing
This 15 round magazine comes with two baseplates to fit both the P365 and P365 XL.
While it's relatively simple, it's one of the best P365 upgrades you can make.
Want to add a red dot sight to your pistol without getting a custom cut slide? This adapter mount from Outerimpact let's you do just that.
By replacing your rear sight with this adapter, you can mount nearly all popular pistol red dot sights, including the Trijicon RMR, Vortex Venom, Leupold Delta Point, and many more.
Take a look at gun forum discussions during the early days of the P365, and you will no doubt find complaints about faulty firing pins. If you have purchased your P365 in the last 6 months to a year, I wouldn't be concerned about this issue as it appears to have been addressed by SIG Sauer in their more recent builds. However, if you have one of the original P365s, it would be wise to get a replacement firing pin.
With that said, we'd recommend checking out this Lightning Strike Firing Pin. As the name suggest, Lightning Strike specializes in firing pins. Many original P365 owners have made this upgrade and it has excellent reviews at retailer around the web.
Prices accurate at time of publishing
The pin itself is made from 17-4 heat-treated steel and is branded to reduce lock time by as much as 50%. This means increased performance and greater accuracy. Again, this isn't necessarily an essential upgrade but worth looking into for a lot of P365 owners.
While not everyone is looking to attach muzzle devices, like sound suppressors, to their micro subcompact pistols... I'm sure there are some of you out there.
Enter the True Precision X-Fluted Threaded Barrel.
Prices accurate at time of publishing
These match grade barrels in a sub-compact pistol are the first of their kind and improve accuracy and overall performance. The barrels use 1-10" rifling, have SAAMI spec polished chambers, and are 1/2X28 threaded for muzzle devices. Plus, they look amazing and are available in a variety of corrosion-resistant finishes.
Final Thoughts: Best SIG P365 Upgrades and Accessories
This wraps up our list of the best SIG P365 accessories and upgrades.
If you could only have one of these accessories, we'd recommend focusing on a good holster to start (assuming you're using your P365 for concealed carry). Beyond this, a 15 round extended magazine is a great backup magazine choice, and it will save you some reloading at the range.
The TLR-6 is the best light for the SIG P365, another of our go-to accessories.
The rest of the P365 upgrades on our list fall into the category of "nice to have" if any of them interest you. The only exception to this is if you have an older model of the P365, in which case you should seriously consider upgrading your firing pin.
We The People IWB Holster for SIG P365
Product Name: We The People IWB Holster for SIG P365
Product Description: Our favorite P365 holster and choice for best overall P365 accessory is this IWB holster from We The People. It's minimalist design does just what you need it to, while staying small enough for maximum comfort and concealability.
Design

Retention

Concealability

Trigger Protection

Comfort