Best Holster for SIG P365 [Hands-On Review of 8 Great Options]
If you're looking for the best holster for your SIG P365, you've come to the right place!
Not only am I a huge fan of this pistol, but I purchased a ton of different holsters for it to try out and review. I've narrowed it down to my favorites for each category to save you time and help prevent you from wasting money on a bad choice.
And for those of you with a SIG P365 XL or P365 SAS, all of these holsters have options for those versions unless otherwise specified.
Best P365 Holster Preview
We'll cover all of these options in more detail below, but here's a preview of the best holsters for the SIG P365 if you're in a hurry.
We The People Holsters IWB / Appendix
Concealment Express Tuckable IWB
Crossbreed Belly Band Holster System
Our choices for the best P365 Holsters are:
Best SIG P365 Holsters
I'm going to quickly jump into the details of our picks for the best SIG P365 holsters. If you have questions about what to look for or want to know more about the different types of holsters, check out our buyers' guide in our Best Concealed Carry Holsters article.
Best IWB Holster for SIG P365
We'll be covering a wide variety of holster types, but I'll get started with the best IWB holsters for the SIG P365. IWB, which stands for "Inside the Waistband," is the most popular option for concealed carry.
IWB Holster, Alien Gear
An IWB holster can include options meant to be worn anywhere along your beltline, so long as it's inside the waistband. Larger holsters with two clips (see image above) are generally meant to be worn at the 3:30 to 5 o'clock position (for right-side drawing). In comparison, smaller holsters with one clip can be worn for appendix carry (see image below) or anywhere else.
Appendix Carry, Alien Gear
We The People IWB Holster/Appendix Carry
There are a ton of great holsters for the P365, each with their own pros and cons. However, if I had to narrow it down to just one, I'd choose this holster from We The People as the best SIG P365 holster (P365 here, P365 XL here).
It's incredibly sleek and lightweight, maximizing the advantages the P365 offers in the first place.
Prices accurate at time of publishing
It's made entirely of Kydex, that's custom fit to the P365. While I often prefer holsters with a leather or neoprene backing, I've been completely comfortable wearing this (mostly appendix carry). I'd attribute this to the fact that the P365 is so small and that this holster has an incredibly sleek design.
Speaking of its sleek design, the undercut trigger guard (shown above) gives you the ability to get an excellent grip on your pistol for easily drawing it. It does this while still preventing access to your trigger and keeping everything safe.
The picture below illustrates how easy it is to get a full grip.
You might have also noticed that the side that goes against your body is longer. This sweat guard prevents sweat from getting on your P365's slide and generally prevents the gun from touching your body.
Retention can be adjusted using the screw at the bottom of the holster. The retention on mine was nearly perfect out of the box. I have no concern that my pistol is going anywhere when I don't want it to during my everyday activities. Still, I'm also able to get an easy, consistent, and reliable draw.
The wide single clip on the front of the holster does a fantastic job of staying firmly attached to my gun belt. This is actually a significant selling point considering some of the poorly designed clips on other appendix holsters.
The clip also serves as the way to adjust ride height and cant. The GIF below shows the different carry options available by adjusting the position of the clip.
This IWB holster from We The People is available in 15+ different designs, my favorite being the carbon fiber design.
The final reason to consider this holster is that it's one of the most affordable options on our list and comes with a lifetime warranty! While there may be better options for carrying towards the rear of your draw side (up to personal preference), this is the best SIG P365 appendix holster for the money.
Prices accurate at time of publishing
Concealment Express IWB Holster
Concealment Express makes two fantastic IWB holster options that I very well could have chosen as the best holster for the SIG P365 and P365 XL (see here).
Concealment Express Tuckable IWB
Prices accurate at time of publishing
Concealment Express IWB
Prices accurate at time of publishing
Like the We The People Holster, these two options from Concealment Express are incredibly lightweight and sleek IWB holsters. The cant and ride hide can be adjusted for both of them as well.
So why did the WTP option edge out concealment express in my eyes?
It all comes down to CE's decision to partially cover the magazine release. While many people find it useful for reducing the likelihood of accidentally dropping your P365's magazine, I find this design feature makes it a bit more challenging to get a good grip for drawing your pistol.
While, for me, this is a slight negative, Concealment Express does offer some benefits over the option from WTP.
The belt clip design on their "Tuckable IWB" P365 holster provides room for you to tuck your shirt in between the holster's Kydex shell and the clip. This is great for people who concealed carry and prefer or have to tuck in their shirts.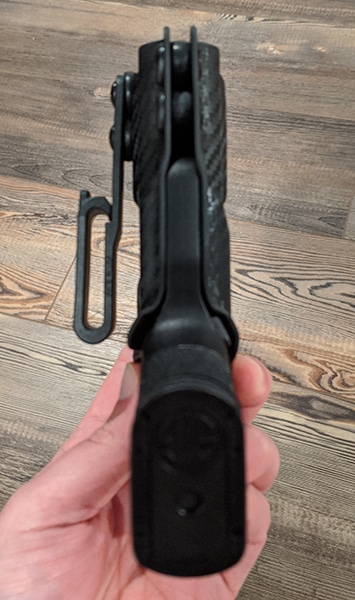 Another massive benefit to Concealment Express is that they have more holster options to accommodate pistol lights.
This version of their IWB holster fits P365s with a TLR-6 light, a pistol light we've covered in our Best Pistol Lights guide and our guide to the Best P365 Accessories and Upgrades.
Crossbreed MiniTuck IWB Holster
Are you looking to carry at the 3:30 to 5 o'clock position (7 to 8:30 for you lefties)? Crossbreed's MiniTuck may be the best P365 IWB holster for you.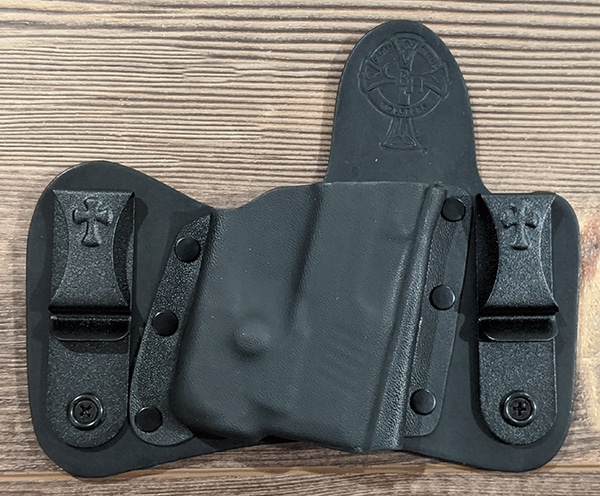 $67.75 at Crossbreed Holsters
Prices accurate at time of publishing
The MiniTuck is a smaller version of Crossbreed's extremely popular SuperTuck, designed exclusively for micro-compact pistols like the P365.
Unlike the all Kydex holsters covered above, the MiniTuck is a "hybrid holster." In other words, it uses a Kydex shell and a leather (or horsehide) backing. This gives the comfort of leather against your body, but the long term trigger protection of Kydex.
Crossbreed SuperTuck Backing
While holsters made entirely out of leather are likely to become worn and unsafe over time, the Kydex shell should always keep your trigger safe, so long as the shell is not damaged. This holster even comes with a lifetime warranty.
One of the biggest selling points of the Minituck holster for the SIG P365 is the fact that you can have it made to fit around light and laser attachments. You can select this from the options at checkout.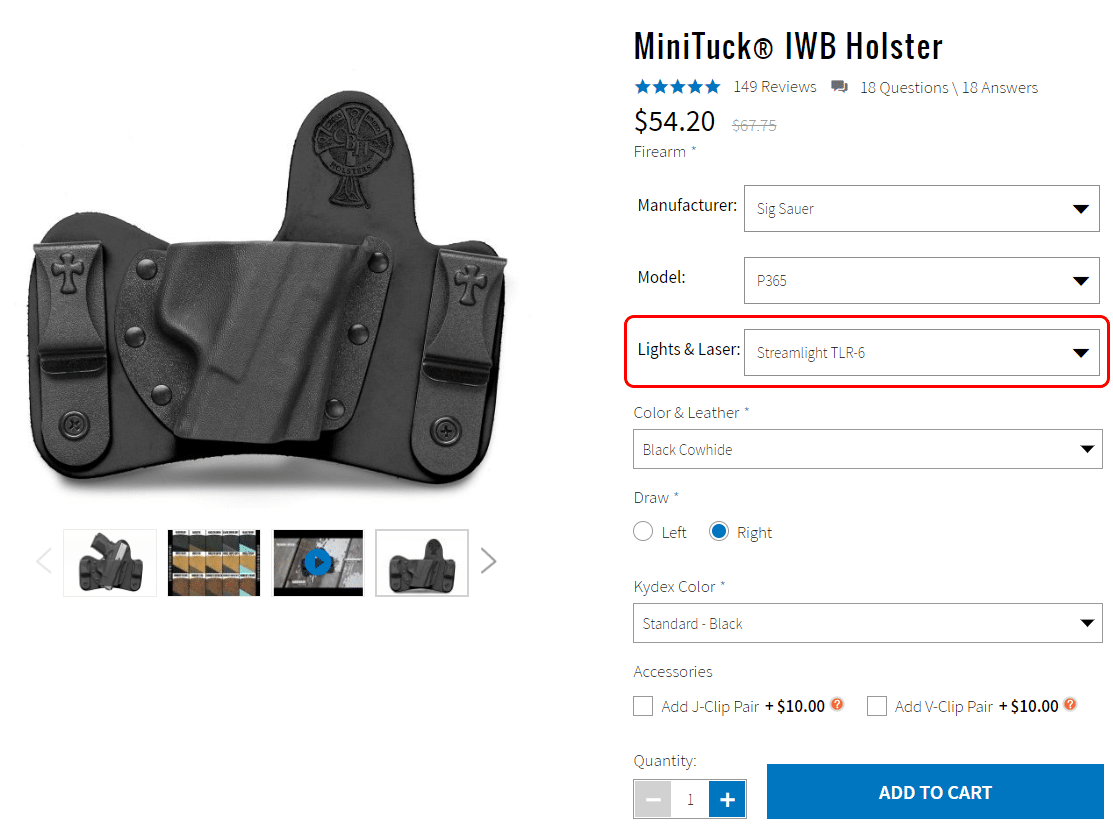 Naturally, I got a MiniTuck IWB holster that fits the TLR-6 (our choice for the best P365 pistol light).
If you should choose a pistol light fit at checkout, the one thing to note is that the shell uses the light for retention. This means the holster will only secure your handgun with the light attached.
Getting a full grip on your pistol is easy enough, thanks to the "combat cut" design of the MiniTuck.
All in all, the Crossbreed MiniTuck is a comfortable choice and one of the best holsters for the SIG P365, especially if you plan to run one of the supported pistol lights on your SIG.
$67.75 at Crossbreed Holsters
Prices accurate at time of publishing
Alien Gear ShapeShift 4.0 IWB
Alien Gear makes one of the most unique IWB holsters for the P365, the ShapeShift 4.0 IWB.
This holster features a Kydex shell that fits entirely around your handgun, protecting the trigger from both sides.
Only the front portion of the shell is attached to the neoprene backing. This allows the backing to fit around the shape of your body more comfortably.
Speaking of comfort, many owners of the Shapeshift IWB holster find its neoprene backing to feel better against their skin than leather-backed holsters and Kydex only holsters.
Retention can be adjusted on the ShapeShift 4.0 using one of the provided locking knobs to tighten or loosen the piece shown in the picture below.
Without requiring any tools, you can move the clips to adjust the cant and ride height of this P365 holster.
Alien Gear ShapeShift Appendix Carry Holster
Alien Gear also makes an appendix carry holster for the P365. Like the above option, the appendix carry holster features a hard Kydex shell with a breathable neoprene backing.
Personally, we prefer the slightly less bulky all Kydex options from We The People and Concealment Express. Still, the Alien Gear Appendix Carry Holster is an option to consider if you find all Kydex options uncomfortable.
Best Shoulder Holster for the SIG Sauer P365
As we've covered in our Best Concealed Carry Holsters guide, we're generally not huge fans of shoulder holsters compared to other concealed carry methods.
These options arguably make even less sense for the P365, as most people buy the P365 as a super-compact pistol to carry IWB.
With that said, everyone has different concealed carry preferences. So while we're covering some options from Alien Gear, here's our choice for the best P365 shoulder holster.
Alien Gear ShapeShift Shoulder Holster
We're generally not fans of shoulder holsters because they tend to lack sufficient trigger protection. Alien Gear has largely alleviated our concerns, however, by designing this holster with a hard Kydex half shell.
While we tend to prefer IWB holsters, this shoulder holster is a good choice for those who regularly wear jackets.
You can learn more about it in the video below:
Best Belly Band P365 Holster
Shoulder holsters don't make a ton of sense to us for the P365, but belly band holsters actually do make a lot of sense as an alternative concealed carry method to IWBs.
Our choice for the best P365 belly band holster comes from another familiar name, Crossbreed.
Crossbreed Belly Band Holster System
Crossbreed's belly band holster is an excellent option for those who'd like to conceal their P365 in a position similar to IWB but don't want to wear a belt.
$67.75 at Crossbreed Holsters
Prices accurate at time of publishing
This option features a custom fit half Kydex shell that's inserted into the band that wraps around your belly.
If you decide you like the belly band but want to use it for a different pistol, you just have to buy a new shell for that firearm.
Like Corssbreed's other offerings, the shell can also be made to accommodate your P365 with a mounted weapon light like the Streamlight TLR-6.
When I purchased this holster to review, I never really envisioned myself using it. Despite this, it's actually become a part of my regular rotation. I frequently opt for it when I don't want to wear a belt.
As a guy, I won't pretend to be knowledgeable about the intricacies of the female wardrobe, but I'd think many women would want to consider this carry method (depending on that day's attire). Belly bands are a solution when wearing shorts and pants that can't accommodate a hefty belt.
To get a better understanding of how the Crossbreed Belly Band System works, check out the video below:
Final Thoughts
That wraps up our list of the Best P365 holsters. Depending on your needs, it's tough to go wrong with any option on our list.
For sleek IWB options that can be carried anywhere on your waistband, including appendix carry, we like the We The People IWB and Concealment Express IWB. If you plan to tuck in your shirt regularly, the Concealment Express Tuckable IWB is likely a better option than the other two.
While the footprint of Alien Gear's ShapeShift Appendix holster is larger than those just mentioned, some find its neoprene backing makes it a more comfortable option.
When it comes to larger IWB holsters for carrying at the 3:30 to 5 o'clock positions, we like the Crossbreed Super Tuck or Alien Gear ShapeShift IWB. The choice largely depends on whether you prefer a neoprene or leather backing.
Crossbreed's Belly Band System and Alien Gear's ShapeShift Shoulder Holster are our two favorite alternative holster options to IWB for concealed carrying the P365, P365 XL, or P365 SAS.