5 Best Magazines for 300 Blackout [2023 Review]
In this guide, we'll help you find the best magazine for 300 Blackout and answer some of the general compatibility and performance questions asked about magazines for this cartridge.
Preview
Can't I Just Use My 556 Magazine with 300 Blackout?
You can use your 5.56 AR-15 magazines with 300 Blackout ammunition in a rifle chambered in 300 BLK, but magazines designed specifically for 300 Blackout can improve performance and cut down on common reliability issues. This is particularly true when using subsonic ammunition that is slightly longer and heavier, as these rounds tend to have more problems in 5.56 mags.
It should go without saying, but to be clear, never use 300 BLK in a rifle chambered in another caliber like 5.56 as this can lead to catastrophic failure. While you probably already know this, a great gun safety rule is to always designate and mark magazines specifically for 300 BLK to avoid accidentally loading them into the wrong rifle.
Best 300 Blackout Magazine Options
Here are our choices for the best 300 Blackout magazine options, specially designed for this cartridge:
1) Lancer L5AWM 300 BLK Magazines
Lancer's L5AWM has been our choice for the best 5.56 AR-15 magazine in recent years, so we were thrilled when they launched a 300 Blackout line at 2018 shot show.
Prices accurate at time of publishing
Like the 5.56 L5AWM mags, the 300 BLK versions offer the same ultra-durable polymer construction and steel feed lips. So what changes were made to help them better accommodate 300 Blackout?
The internal geometry was changed and designed specifically to help heavier grain 300 BLK subsonic ammo (200gr +) stack properly. This improves reliability and also helps allow you to fit the full number of rounds intended to fit in a given mag. For example, it can be a lot easier to load 30 or close to 30 rounds in a L5AWM 30 round 300 BLK mag vs a 5.56 mag.
These magazines are also labeled with "300 Blackout" markings molded into the outside of them, and they have dark tan floor plates rather than black to help you distinguish them from 5.56 Lancer mags.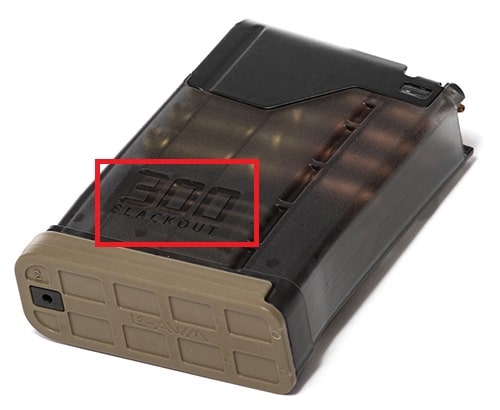 Interestingly, Lancer actually recommends using their 5.56 magazines for supersonic ammo 150 Grain or lighter, but I'd recommend experimenting with the 300 BLK mags if you're having any issues with the lighter cartridges.
Lancer 300 Blackout magazines are available in translucent smoke and opaque black in capacities of 10, 20, and 30 rounds. I love Lancer's translucent mags both for their looks and the ability to very quickly estimate remaining round count.
Prices accurate at time of publishing
2) Magpul PMAG 300 BLK Gen M3
Magpul is the most popular manufacturer of polymer firearm magazines for everything from Glock mags to AR-15 mags. They actually came out with a PMAG specifically designed for 300 Blackout before Lancer introduced the option above.
Prices accurate at time of publishing
Like the Lancer 300 BLK mags, the internal geometry of the 300 BLK PMAG is optimized for 300 Blackout. By contrast, typical 5.56 mags can "pinch" 300 BLK rounds causing them to load more slowly from the magazine. This slow feeding can result in malfunctions.
300 B PMAGs have markings and rib designs unique to them to help you distinguish them between 5.56 PMAGs. They also have a black follower, instead of the blueish grey ones found on 5.56 PMAGs.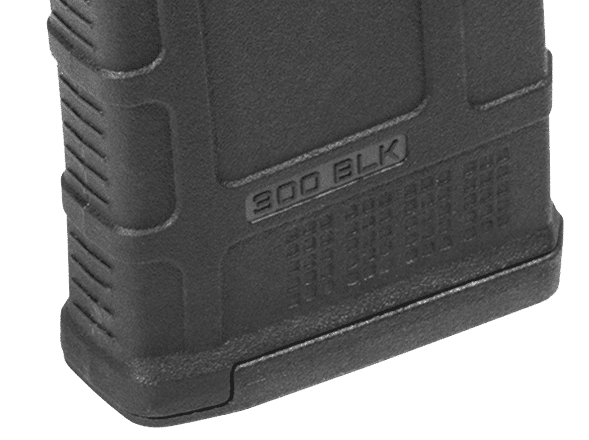 Though Magpul's PMAG 300 B Gen M3 is a great choice, there are a few reasons I instead chose the Lancer L5AWM as the best 300 Blackout magazine.
I prefer the ability to clearly see round count through the L5AQM. Unlike their 5.56 options, Magpul does not even offer a windowed PMAG in 300 Blackout.
PMAG 300 Bs only come in a 30 round capacity option, whereas Lancers come in 10, 20, or 30.
Despite Lancer mags looking like they may be less durable, some independent testing I've come across shows the L5AWM may actually be slightly more durable.
I believe the L5AWM's steel feed lips are more durable than the polymer feed lips of PMAGs and that they are especially more durable than aluminum feed lips found on G.I. style magazines. This makes them a more reliable long term option.
3) D&H Industries 300 Blackout Magazines
Years before Lancer and Magpul offered magazines designed for 300 Blackout, D&H Industries came out with a line of aluminum magazines for this cartridge. Though I think the newer polymer offerings above are superior, this is the primary option for those who have yet to embrace polymer.
Prices accurate at time of publishing
In addition to internal geometry specifically designed for 300 BLK, these D&H mags have a proprietary red limited tilt follower to help keep rounds from getting stuck. Strangely, the follower is oriented opposite of all other AR-15 magazines I've used.
In our experience, these have been less reliable, particularly when using them with heavier and longer bullets. A quick look through other customers' reviews seems to show issues with these are more common than with our preferred magazines.
---
We've covered our options for the best magazine specifically for 300 Blackout, but how about our choices for standard 5.56 AR-15 magazines that can also be used for 300 Blackout?
4) Lancer L5AWM 5.56
If not opting for 300 BLK specific magazine, we'd say go with the standard 5.56 L5AWM. They give you a greater number of color choices than the 300 BLK version, including:
Opaque Black
Opaque Flat Dark Earth
Translucent Smoke
Translucent Clear
Translucent Purple
Translucent Red
Translucent Flat Dark Earth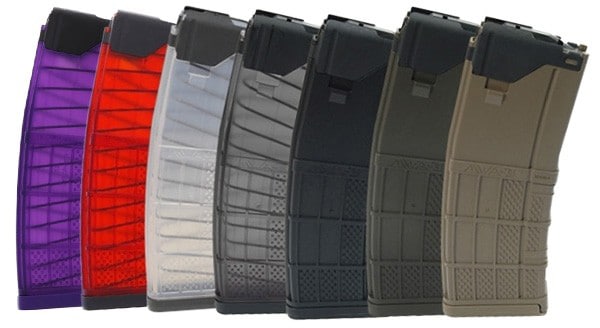 Prices accurate at time of publishing
They're also available in capacities of:
5 Rounds
10 Rounds
20 Rounds
30 Rounds
10/30 Rounds
5) Hexmag 5.56
Now for a brand not yet covered on this list, Hexmag. Though they don't specifically make magazine for 300 Blackout, Hexmag's standard AR-15 magazines are some of the best budget options around.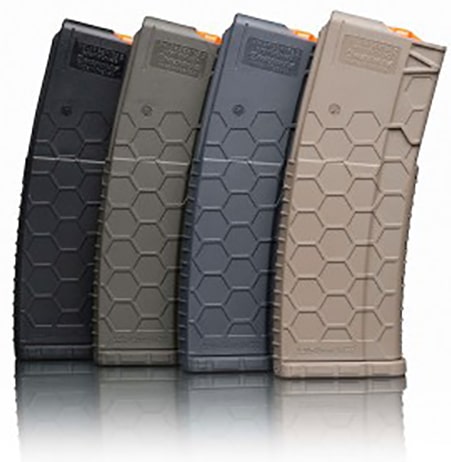 Prices accurate at time of publishing
Despite sometimes costing as little as half of what Lancers and PMAGs cost, these have proven to be incredibly reliable in our experience. Aside from being cheap, their HexID Color Identification System also made them stand out as a good choice to include on this list.
You can purchase cheap packs of HexID followers in a variety of different colors, allowing you to designate a specific color for 300 Blackout to make it stand out from 5.56.
Conclusion
That wraps up our choices for the best magazine for 300 Blackout.
Though you don't necessarily need specific mags for the 300 BLK cartridge, specially designed magazines can improve reliability especially when firing heavier subsonic loads. Lancer's L5AWM is our clear top choice, followed by PMAG. If you don't like polymer, give the D&H 300 BLK mags a shot.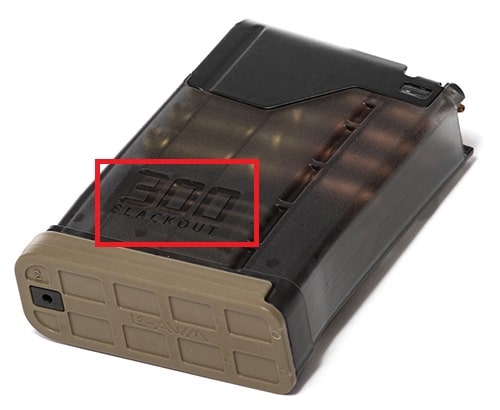 Product Name: Lancer L5AWM 300 BLK
Product Description: Lancer has improved on their already phenomenal L5AWM AR-15 magazine to make models specifically designed to perform reliably with heavier 300 Blackout loads.
Reliability

Durability

Ascetics

Value
Looking for a new 300 BLK upper? Check out our top picks for the best 300 blackout upper at every budget.