Best 300 Blackout Upper for AR Pistols and Rifles [All Budgets]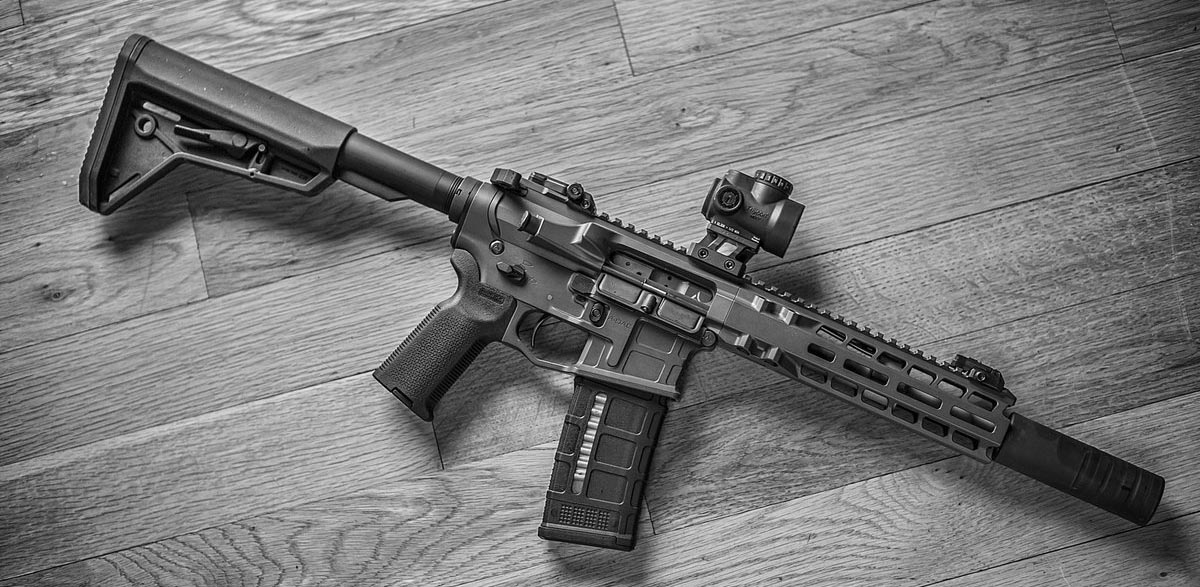 In recent years, 300 ACC Blackout (BLK) has become one of the most popular calibers for AR platform rifles. Aside from the performance advantages this cartridge offers, the biggest reason for its success is that you basically just need to swap the barrel of your standard 5.56 chambered AR-15 to have a 300 BLK rifle. Because regularly swapping out barrels is a pain, most people to choose to buy a 300 Blackout upper.
In this guide, we'll help you find the best 300 Blackout upper for your needs.
Preview
Here are our picks for the best 300 Blackout Upper at every budget:
You can jump ahead to our picks by clicking here or continue reading.
Barrel Length
Before jumping into the uppers, there are a few things to cover... First of which is barrel length.
Though 300 Blackout does gain some performance benefits from being shot out of longer barrels, these benefits are less pronounced than calibers like 5.56 NATO.
The table below shows muzzle velocity and energy using a variety of different bullet weights shot from barrels ranging from 7.5" to 16".
| | 110gr Velocity (fps) | 110gr Energy (ft lbs) | 125gr Velocity | 125gr Energy | 150gr Velocity | 150gr Energy | 220gr Velocity | 220gr Energy |
| --- | --- | --- | --- | --- | --- | --- | --- | --- |
| 7.5" Barrel | 2,118 | 1,096 | 1,957 | 1,063 | 1,709 | 973 | 953 | 444 |
| 9" Barrel | 2,167 | 1,147 | 1,975 | 1,090 | 1,661 | 919 | 957 | 447 |
| 10.3" Barrel | 2,203 | 1,185 | 1,984 | 1,094 | 1,709 | 973 | 960 | 450 |
| 12.5" Barrel | 2,289 | 1,280 | 2,118 | 1,245 | 1,789 | 1,066 | 1,027 | 515 |
| 16" Barrel | 2,412 | 1,421 | 2,221 | 1,339 | 1,854 | 1,154 | 1,102 | 593 |
The source for the data in the table is this video by Mrgunsngear, one of my favorite gun related YouTube channels.
The 125gr shot out of a 7.5" barrel had 88.11% of the muzzle velocity as when it was shot out of a 16" barrel. By comparison, 55gr 5.56 shot out of an 8" barrel only achieves 77.36% of the velocity of the same bullet shot from a 16.5" barrel.
In other words, 300 Blackout comes closer to its full potential shot out of shorter barrels than 5.56.
More important than that, 300 BLK is actually reliable in shorter barrels like 7" and 9" lengths because it is faster burning than 5.56. The slower burning 5.56 runs into significant reliability issues with barrels under 10.3"-11.5" due to too little dwell time.
All of this is to say, 300 Blackout is a fantastic caliber for AR pistols and short barreled rifles. 300 Blackout ARs shine as home-defense guns and for use in close quarters in general.
Just remember to comply with all federal, state, and local laws surrounding barrels under 16".
Why Get a 300 Blackout Upper Rather Than a Complete Rifle
The only part that needs to be swapped for a standard 5.56 AR-15 to shoot 300 Blackout is the barrel and gas system. Barrels, however, are arguably the most challenging part to swap out and not something you would want to do every time you want to change calibers
Thus, most people decide to buy a 300 Blackout upper so that they can quickly slap it onto a complete AR-15 lower they already own. This not only saves you money, but you can get a 300 BLK upper shipped straight to your door in most states because the lower receiver is the serialized portion of an AR-15. Again, just be sure to adhere to all applicable laws.
Below you'll find our choices for the best 300 Blackout upper for every budget.
If you've read our AR-15 guides, you know we're huge fans of Palmetto State Armory, so it should come as no surprise that they're our budget-friendly choice for the best 300 Blackout upper.
Despite being one of the most affordable manufacturers out there, PSA is known for their exceptional quality. At this point, I think you would struggle to find anyone saying anything negative about them.
In 300 Blackout, they have a wide variety of options. You can find barrel lengths from 8" to 16", options with or without a bolt carrier group and charging handle, and a variety of handguard configurations.
Prices accurate at time of publishing
While you could spend more to get a lighter or slightly more accurate upper, PSA's options get the job done in terms of reliability. They're great choices if you want to dip your toes into 300 Blackout or if you're on a budget. With their wide range of available configurations, you can find an upper to put together a great pistol or rifle.
Aero Precision is another relatively affordable option we love, though they are generally more expensive than PSA.
In our minds, some of their products look a bit better ascetically than some of what's available from PSA, and we really love their Atlas S-One Handguards (shown below). The S-One, which we've covered in the best AR-15 handguards, gives you a very comfortable grip around it.
From $434.99 at Aero Precision
Prices accurate at time of publishing
Our editor's choice for the single best 300 Blackout Upper for the money is BCM's 9" barrel upper with an 8" MCMR (M-LOK) handguard. Here are his thoughts on it:
Having shot tens of thousands of rounds out of their rifles, I'm a huge fan of Bravo Company. Through all of the abuse I've put them through, they've always been up to the task. This has led me to choose BCM uppers for rifles I use for home-defense.
In my mind, this 300 Blackout upper's 9" barrel is the perfect length to take advantage of the 300 BLK cartridge. Add to a lower for the perfect home-defense set up.
Prices accurate at time of publishing
This upper does not come with a bolt carrier group or charging handle. If you're in the market for a BCG, you can't go wrong with BCM Mil-Spec BCG. I run this on nearly all of my AR-15s. You can also check out our guide to the best charging handles.
Prices accurate at time of publishing
If you're looking for the overall best 300 Blackout upper, the Radian Weapons Model 1 in 300 BLK is your best bet.
From Brownells, you can get it with either an 8.7" or 14.5" 416R stainless steel barrel that guarantees Sub-MOA accuracy with Black Hills Match Grade ammo. Its billet upper receiver and M-Lok handguard are incredibly high quality and look fantastic.
It comes with an Enhanced full-auto rated bolt carrier group and Radian's Raptor-SD charging handle that is optimized for use with suppressors.
Last to note is that it has a SilencerCo ASR flash hider that's compatible to mount SilencerCo suppressors.
Prices accurate at time of publishing
Conclusion
That's it! We've covered the best 300 Blackout upper for every budget.
If you're looking to spend as little as possible, while still getting a quality upper, go with Palmetto State Armory. Aero Precision is another good choice that's a bit more expensive.
Moving up, BCM's 9" 300 BLK upper is a great mid-priced option that will handle anything you put it through.
For those of you with the money to spend, Radian Weapons Model 1 300 BLK uppers are the best overall option.
Product Name: Palmetto State Armory 300 BLK Uppers
Product Description: Palmetto State Armory has a wide variety of quality 300 Blackout uppers to choose from at a price everyone can afford. Their options include barrel lengths from 8" to 16" with a variety of handguards. You can also find options with or without bolt carrier groups and charging handles.
Reliability

Quality

Value
Check out our guide to the best magazines for 300 Blackout.