Best Ruger Mini-14 Magazines (10, 20, 30 Round and More)
The Ruger mini-14 factory magazine is excellent (more on that later), but it's still a good idea to have back-ups on-hand. Magazines will typically be the first thing on your gun to malfunction, and a faulty magazine can become a life or death issue if you're ever in a self-defense scenario.
Below we've made a list of the best Mini-14 magazines currently on the market, ranging from top-shelf products down to bargain bin range-mags. Let's get started.
Best Mini-14 Magazines
The Best Mini-14 Magazines are:
1) Ruger Factory Mini-14 Mags
When it comes to maximum reliability, look no further than the original Ruger factory Mini-14 magazines. Ruger currently offers a wide selection of magazines ranging from 5 to 30-rounds, built with blued or nickel-plated steel.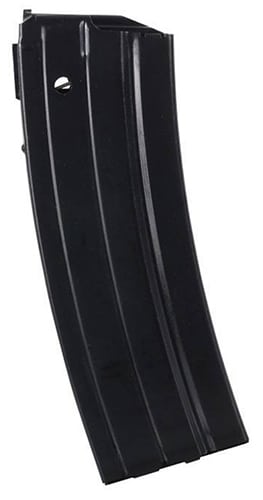 $21.49-$35.99 
at GunMag Warehouse
Prices accurate at time of publishing
Whether it be for self-defense, competitive shooting, or hunting, the Ruger Factory mags are the best buy for serious shooting. Their solid-steel construction is meant to withstand the most extreme conditions, and the feeding mechanism will typically continue to function flawlessly even after thousands of rounds.
The only potential downside to Ruger's factory mags is the cost. For those on a budget, I would still advise having at least one factory mag on hand for serious shooting and then opting for some of the cheaper aftermarket options listed later in this article for casual range-use.
Features:
Available in blued or nickel-plated steel

Ranging capacity options include 5, 10, 20, and 30-round magazines (in 5.56/.223)

Lined indentions for non-slip gripping 

Witness holes at top of magazine to check remaining cartridges

Available .223/5.56. 300 Blackout, and 6.8mm SPC magazines.

Easy base plate disassembly
2) Tapco Mini-14 Gen II Magazines
Tapco's Mini-14 "Gen II" magazines are a viable and more affordable alternative to Ruger's factory magazines. Unofficially dubbed the "Gen II" series, Tapco has made significant improvements to the magazines' original design: the Gen II mags are now constructed with an upgraded polymer.
$14.99 at GunMag Warehouse
Prices accurate at time of publishing
The Tapco Gen II's upgraded polymer build gives it greater overall durability, and its stiffer feed lips won't spread apart over time (as was the case with the Gen I series). Compared to Ruger's steel-bodied magazines, Tapco's polymer mags are an excellent choice for those wanting something more lightweight.
The Tapco Mini-14 magazines have a 30 round capacity and use an anti-tilt follower system to help prevent feeding issues. The pronounced grid texturing makes Tapco's magazines very easy to handle and is a step up in feel when compared to Ruger's factory mags.
Overall, Tapco's Gen II magazines are reliable enough to be used for competitive shooting and self-defense. If money is no object Ruger's mags are still a bit more proven, but the discount price of Tapco's mags make them the best Mini-14 magazines for those on a budget.
Features
Lightweight polymer build

30-round

Chambered in 5.56 NATO/.223 Remington

Texturing for maximum grip

Anti-tilt follower

Heavy-duty spring

Reinforced metal clip
Tapco also makes other products for Ruger firearms, as seen in our guides to the best 10/22 upgrades and best 10/22 magazines.
3) Promag Mini-14 Magazines
If you're interested in low-priced steel magazines for your Mini-14, Promag is the obvious choice. A steel Promag will cost around half the price a Ruger factory mag, but be warned: Promag's steel mags may feature a nearly identical design to Ruger's factory mags, but buyers should expect a drop-off in overall performance and reliability. Promags are reliable enough for casual range-use, but when it comes to self-defense or serious shooting, it's worth spending the money for a magazine made by Ruger or Tapco.
$21.99 at GunMag Warehouse
Prices accurate at time of publishing
As mentioned above, Promag's steel magazine features a very similar build to Ruger's factory magazines with vertical grooves indented into the body for added grip.
ProMag also offers Polymer Mini-14 magazines, including a 42-round option.
$15.99 at GunMag Warehouse
Prices accurate at time of publishing
ProMag's polymer magazines feature injection-molded, glass-filled polymer bodies and followers. They also have anti-fatigue silicon internal springs to maintain reliability, even when being stored loaded for long periods of time.
4) KCI Mini-14 100 Round Dual Drum Magazine
For those interested in a fun novelty item, KCI offers a Mini-14 100 round dual drum mag that's sure to provide plenty of added fun at the range. Drum magazines can be hit-or-miss as far as reliability, but KCI is a fairly trusted name in the gunspace, and their Mini-14 drum mag reflects the kind of professional-build the manufacturer is known for.
Prices accurate at time of publishing
Though we haven't used this particular magazine, we've had success with other KCI products. Online customer reviews have also been mostly positive on this Mini-14 drum magazine. The drum is built with high-quality polymer and has a black matte finish, and has been finely balanced so that it won't offset your rifle.
Conclusion
That completes our list of the best Mini-14 magazines.
We mostly recommend sticking with factory Ruger Mini-14 mags for serious use, but Tapco's 30 round polymer magazine is a great lightweight alternative that will also save you some money.
If you want to try cheaper steel magazines, ProMag is an option, but we're generally hesitant to use anything from ProMag for serious uses.
Lastly, we recommend giving KCI's 100-round dual drum magazine a shot if you want to have some extra fun at the range.
Tapco 30 Round Mini-14 Polymer Magazine Review
Product Name: Tapco 30 Round Mini-14 Polymer Magazine
Product Description: Having made improvements in the 2nd generation of these magazines, Tapco 30 Round Mini-14 mags are the best alternative to factory magazines from Ruger. Their polymer bodies make them lighter and more affordable than Ruger's steel magazines.
Quality

Reliability

Value