Glock 17 vs 19 Comparison: See Which is Better for You
In this guide, we'll compare the Glock 17 vs 19, two of the world's most popular 9mm handguns. By the end of this guide, you'll know the differences between these two models so that you can decide which is best for you.
Glock 17 vs Glock 19 Comparison Table
We'll go into the pros/cons and what it's like to actually use these two pistols below, but to start, here's a table comparing the two models.
Glock 19 and Glock 17 Similarities
After looking at the table above, it becomes clear that these two models are quite similar to each other.
Both are chambered in 9mm, the most common handgun caliber for uses like concealed carry, home defense, and competitive shooting. Not only is 9mm ammo the cheapest defensive pistol caliber, but it also offers relatively light recoil compared to most other defensive calibers. As 9mm ballistic technology has improved, the FBI and many U.S. police departments have gone back to it from larger calibers in the last 30 years.
Both use double stack magazines, which results in the Glock 19 and 17 having the same frame width at 1.34".
Magazines on double stack Glock pistols are interchangeable so long as they are long enough to fit in the frame of a given model. In other words, despite the G17 having a standard magazine capacity of 17 rounds vs the G19's 15 round standard capacity, you could use a G17 magazine in a G19 for the same capacity. This would, of course, protrude from the bottom of your Glock 19, making it taller.
Glock 26 With Extended 33 Round Magazine
In my mind, this kills any capacity related downsides to the Glock 19 vs 17, since the 19 can match any capacity of it's larger framed counterpart simply by using larger double stack Glock magazines.
Last to note as far as similarities are concerned is the weights of these two pistols are of negligible difference. This contributes to no noticeable difference felt recoil in my personal experience shooting these two pistols.
Glock 17 vs 19 Differences
The main difference when comparing the Glock 17 vs 19 is that the G17 is longer, has a longer barrel, and is taller. The size difference between the two pistols affects concealability, comfort, and accuracy.
Concealability
As a 5' 9" guy, the Glock 19 is one of the largest pistols I'd consider for concealed carry. For summer clothes, it would be a bit too large not to "print", but it would certainly be feasible to conceal it when dressing for Midwest fall and winter. While I would personally prefer a smaller and thinner pistol like the Glock 43X or Sig Sauer P320 to maximize comfort, the G19 is fine for me to carry for relatively short periods of time.
Unless you're a huge person, I wouldn't consider attempting to concealed carry a Glock 17. It's not that the G17 is impossible to conceal, just that it's likely to be very uncomfortable for regularly carrying. Instead, I'd reserve it for open carry, home-defense, or for duty use.
Glock 17 Concealed Carry W/ Alien Gear ShapeShift Appendix IWB Holster
Shooting Comfort
Both of these Glock pistols should be easy to shoot for the vast majority of shooters comfortably. Unless you have massive hands, you shouldn't have any issue getting a comfortable grip on a Glock 19.
Accuracy and Performance
Any differences in accuracy between these two pistols should be minimal. The slightly longer barrel of the Glock 17 is not enough to give it any real noticeable benefit in terms of accuracy over the Glock 19.
You may, however, find that other factors help you to shoot one better than the other.
For example, the larger frame of the Glock 17 may help you more comfortably control it. You may also find the longer distance between the front and rear sight of the G17 to help you perform better.
Glock 17 vs 19: Choosing One For Yourself
When choosing between the Glock 17 vs Glock 19, you'll ultimately have to decide for yourself which is best for your needs.
Asking yourself what you plan to use your handgun for will likely help you find the answer.
For the average shooter, the Glock 19 is small enough to conceal carry without huge sacrifices in comfort or concealability. By changing the magazine, it can hold just as many rounds as the G17. Most shooters won't experience any drastic differences in their ability to perform with a G19 compared to a G17.
For these reasons I think the Glock 19 is the best Glock pistol overall, as it can perform admirably at basically any task including concealed carry, home defense, target shooting, etc.
The larger size of the Glock 17 keeps me limiting its use to home defense, range shooting, or competitive shooting. It's also likely the better choice if you're not worried about concealment, including applications like duty carry or open carry.
Which will you choose?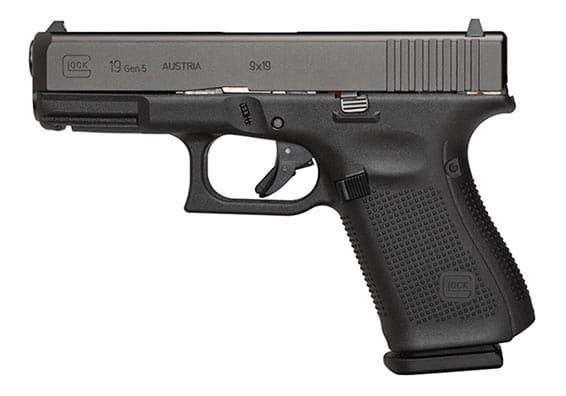 Product Name: Glock 19
Product Description: The Glock 19 is the perfect do everything Glock pistol. It's small enough to be used for concealed carry, without being too small to limit its effective use for tasks like home-defense, target shooting, or even for getting your start in competitive shooting.
Durability

Reliability

Quality

Function
More comparisons: