5 Best Glock Sights (Including Night Sights for Glock 19 and All Models)
It may be one of the best polymer framed pistols in the world, but for all its upsides, there are one or two areas where the ridiculously reliable and astonishingly accurate Glock 19 falls short. Like every Glock in the series, the Glock 19 comes stock with a generic set of sights that have been the subject of ridicule from Glock haters and supporters alike since the first Glock was released in 1982.
In this guide, we'll help you find the best Glock sights to upgrade your Glock 19 or any other Glock model.
What Makes a Sight Good
So what makes a good set of sights? The first thing I would recommend is to only buy sights made from a strong metal like steel or aluminum. Avoid plastic sights, as they are typically not durable.
You are also looking for a front sight that is easy to find when taking aim. The Glock comes with simple painted sights, but modern sights have evolved beyond this.
Today, you can find sights with luminescent paint that aids in target acquisition. Alternatively, many sights use radioactive chemicals housed in durable tubing that give off a natural glow without electrical energy—tritium is most popular for this purpose. Modern fiber-optic sights create a similar effect. Fiber optics glow even in the sunlight, while tritium is specifically designed for nighttime.
Luminescent sights also come in different color variations. The color you choose largely comes down to personal preference. Some people find certain colors do a better job of drawing their attention to the front sight.
You want your sights to have a bright target point that allows for easy target acquisition, day or night. The front sight typically should have a large dot that's easy to focus in on and provides sufficient contrast from the rear sight.
Speaking of rear sights, make sure that the rear sights' paint or tritium doesn't distract you from the front sight. The front sight should always naturally capture your eyes' attention.
The width of the front sight is also important, as it can affect your speed and accuracy dramatically. Be careful not to get sights that are too wide in dimension, as they make long-distance shooting more difficult.
Finally, consider getting ramped sights with smooth edges that won't snag on your holster or clothing.
Finding the Right Sights for Your Use Case
Before getting to the best Glock sights, there's a bit more to cover.
Everyday Carry and Tactical Accuracy
Sights that are used for your everyday carry firearm are what you want to spend the most money on. Focus on quality and durable construction. For everyday carry, you also want sights that are quick on target and facilitate "tactical accuracy" rather than "bullseye accuracy". Most gunfights happen at 3 yards, last under 3 seconds, and involve 3 rounds. Under these circumstances, making a pin-sized grouping isn't as important as getting shots off on target as quickly as possible.
Tritium night sights are a good option because they can still be seen clearly at night, when most home invasions take place.
Home Defense
It may sound counterintuitive, but I don't think you need to break the bank getting sights for a home-defense gun. This is because weapons used strictly for home defense are usually stored in a drawer or a closet and are rarely used. You are looking for something that performs similarly to sights you would use for everyday carry, but durability is less important. Night sights are recommended, but they don't need to be top of the line, particularly if you have multiple home defense weapons. Likewise, sights that are accurate at long distances aren't necessary.
Range Sights
Range sights are designed to facilitate pinpoint accuracy for long-range shooting. Fiber-optic sights, in particular, are popular among most competitive shooters these days, but personal preference varies widely.
Sight Setups and Variants
There are several different sight setups for shooters to choose from these days, with some of the most common stylings listed below. Choosing between sight setups largely comes down to your use case and personal preference.
3-dot sights - These sight setups feature one dot on the front sight and two on the rear. Night sight variations will often have dots that are centered with tritium inserts. It's one of the most popular designs among handguns and is good for both short- and long-range shooting.
2-dot sights - 2-dot sights feature one big dot on the front sight and one small dot on the rear sight beneath the notch. Well-made 2-dot sights keep the shooter's attention on the front sight, while the rear sight naturally feeds into the front sight for fast target acquisition.
I-dot sights - Similar to the 2-dot set, the I-dot features a big dot on the front sight and a single vertical line at the center of the rear sight. The objective is to line up the sights by "dotting the I." These are best used for close-distance encounters.
U-shaped rear sight - U-shaped rear sights are most commonly used by competitive shooters. The curved rear sight wraps around a dotted front sight.
Sight Range
Short-range sights - Short-range sights are specifically designed for close-range encounters—often home defense. They sacrifice pinpoint accuracy in order to help you find your target as quickly as possible. These sights typically have an I-dot setup. It's very difficult to miss at close range with a good set of short-distance sights.
Short- to medium-range sights - These sights also work well for home defense, but they're more versatile than short-distance sights. You will still encounter I-dot setups in this range category, but 3-dot sights with square-notched rear sights are also very common. The Glock stock sights, for example, feature this medium-distance sight setup. The accuracy of stock Glock sights typically extends to about 25 yards.
Medium- to long-range sights - Medium- to long-distance sights are typically accurate up to about 40 yards. They usually feature either 2-dot, 3-dot, or sight-ledge designs. You can expect higher quality products in this range, but they also tend to be more expensive.
Long-range sights - These are top-shelf products capable of accurate shooting over 50 yards at night when used by a skilled shooter. These sights typically feature a 2-dot or 3-dot setup and usually make up the most expensive products on the market.
How Much Should I Expect to Spend?
Sights, generally speaking, aren't very expensive even for high-quality products. They are also built for durability and reliability, which means you won't need to repeatedly buy new sights. It's wise to steer clear of cheap metal sights made in places like China, as they tend to be of lower quality and are sometimes a pain in the ass to install. It's better to focus on middle- to top-shelf products and spend as much as the sights' use case calls for. As mentioned above, if this is your everyday carry weapon, make the necessary investment. On the other hand, if this is simply a backup home-defense weapon, don't overextend yourself.
Best Glock Sights
Here's our list of the best Glock sights for the Glock 19 and other models.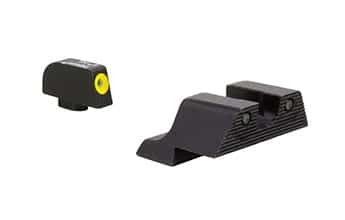 Prices accurate at time of publishing
Trijicon HD XR Night Sights
It will come as no surprise to experienced shooters to see Trijicon's HD XR Night Sights topping our list. Trijicon has become an industry leader in this space, best known making the best night sights. You will see Trijicon come up a lot on this list, as their tritium sights are licensed to several other manufacturers.
The HD XRs are tactical sights specially designed for law enforcement. They are branded to offer advanced target identification and accuracy at long distances. Both the front and rear sights are made from steel, and the thin front-sight post gives shooters a large field of view for faster target identification and engagement.
The tritium lamps are protected by a sapphire-jeweled screen wrapped in aluminum, and the front lamp is centered in an orange or yellow photoluminescent paint dot. The paint takes between 15 to 20 minutes to charge to reach full luminescence. It can be recharged using any light source, not just the sun, but will begin to dim slowly when light is taken away. The U-notch rear sight is serrated to help avoid glare and features 2 small tritium dots on each side that encase the front sight without drawing too much attention away from the front sight.
As mentioned above, the HD XR Night Sights are designed for law enforcement and tactical use and are therefore among the most durable sights currently on the market. They are one of the most expensive sights on our list, but well worth the investment if you are looking for the best.
Trijicon HD XR Night Sights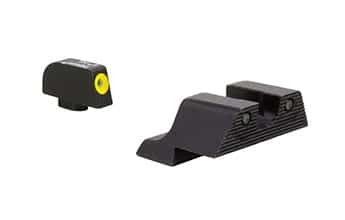 Product Name: Trijicon HD XR Night Sights
Durability

Value

Functionality
Prices accurate at time of publishing
Ameriglo Pro I-DOT for Glock
Designed for simple front-sight acquisition without sacrificing rear illumination, the Ameriglo Pro I-DOT is one of the most popular Glock 19 sights currently on the market. They also fit Glock models 17, 22, 23, 24, 26, 27, 33, 34, 35, 37, 38, 39. These sights are made of steel and feature a two-dot setup with a green tritium front lamp wrapped in either yellow, orange, or white paint and a green tritium rear lamp. The sights have an oxide finish, which helps fight corrosion, and the lamps are encased in an aluminum housing with a sapphire screen. The lamps themselves are made by Trijicon.
The Pro I-DOT is often used by competitive shooters and works great for both day and nighttime shooting. Their steel-alloy build makes these sights reliable enough for everyday carry, and the Swiss tritium lamps typically have a shelf life up to 20 years.
Prices accurate at time of publishing
Meprolight Glock Tru-Dot Night Sight
The Meprolight Glock Tru-Dot Night Sights are another popular set of sights for law enforcement and tactical use. These tritium 3-dot sights are great for both day and nighttime use and come in various color combos. Green and green is the most popular and is typically the best for nighttime shooting. Alternatively, the yellow front sight with green rear sights provides a color contrast some shooters prefer.
The Tru-Dot Night Sights are our choice for the best Glock sights on a budget. If you are looking for a good set of sights for both day and nighttime use without spending a bunch of cash, these are a great choice.
Prices accurate at time of publishing
Truglo TFX Tritium/Fiber-Optic
Truglo's newest line of sights features a patented tritium + fiber-optic technology dubbed TFX. These sights have a lot going for them and are among my favorites on the list. They're great for both day and nighttime shooting, they're designed to not snag on clothing, and their steel frames are protected with a trademarked rust-proof Fortress Finish.
The TFX Tritium/Fiber-Optic sights use a 3-dot setup, with the center dot featuring a highly visible white ring surrounding the front fiber for easy target acquisition. The fibers are concealed from the sides and rear to avoid being seen by targets, and the tritium is Swiss made, ensuring a long shelf life.
These sights are designed for close- to long-distance shooting and are great for an everyday carry gun. These are among the more expensive sights on our list, but again, they live up to their price point.
Prices accurate at time of publishing
DXT Big Dot by XS Sights
Rounding out our list, we have the DXT Big Dot by XS Sight Systems. These simple I-dot sights are specially designed for self-defense situations at short distances—focusing primarily on ranges below 15 yards. While not great for long distance shooting, target acquisition is very easy with these clear-contrasting sights.
The sights feature a low-profile, snag-free design and are good for shooting in all light conditions. There is a Defensive Express Tritium (DXT) big dot on the front sight and a tritium line at the center of the rear sight. The sights are made from steel and are coated with an anti-corrosive black paint.
These are the most expensive sights on our list; however, I personally found target acquisition with these sights easier than anything I've shot with before—perhaps the perfect choice for everyday carry.
Summary
Ultimately, what are the best Glock sights for you will come down to personal preference. You've probably noticed this from my recommendations, but I think night sights are important for a pistol you use for defensive purposes.
If I had to pick one option from this list, it would be Trijicon's HD XR night sights. Trijicon has built a rock solid reputation for making rugged products that last for years, so from a dependability standpoint it's hard not to give them the nod for the best Glock night sights.