The 5 Best AR-15 Pistol Grip Options in 2023
In this guide we'll help you find the best pistol grip for your AR-15.
While this undoubtedly isn't the most important part of your build, there are still factors that separate one grip from another. This guide will help you navigate those differences and choose the best AR-15 pistol grip for you.
Preview of the Best Pistol Grips
Before going over the things to consider when choosing a pistol grip, here's a sneak peek at our favorite options:
| Pistol Grip | Price |
| --- | --- |
| | $17.99 |
| | $18.95 |
| | $23.70 |
| | $29.00 |
| | $21.56 |
A Few Things to Consider When Choosing a Pistol Grip
Before jumping into all of our picks, we'll first cover a few things that you should consider when choosing a pistol grip.
Quality, Durability, and Materials
You definitely don't need to spend a crazy amount of money on a pistol grip, but we'd strongly recommend avoiding the cheapest available grips. You get what you pay for, and a $5 grip is likely to feel flimsy, uncomfortable, and be less durable.
I'm not sure if you can tell how crappy the above pistol grip is through an image, but I'm very unlikely to ever attach this to a rifle of mine. It feels like it's made out of the same plastic used for Happy Meal toys.
We've chosen to only include quality options that are made from high-quality materials on this list, starting at $15-$20.
Grip Angle
The angle of your grip is arguably the most important factor to consider as far as function is concerned.
Traditionally, AR-15s have used greater-angled grips, though there's been a huge shift towards less-angled (more-vertical) pistol grips. This change in grip angle is actually a result of a more squared-off stance now being recommended when firing an AR-15, compared to a bladed stance that was recommended previously. The steeper grip is more ergonomic for modern shooting techniques.
The picture above shows a more traditional grip angle vs the Daniel Defense pistol grip angle.
With all of that said, this choice ultimately comes down to your personal preference and what you find comfortable.
Size
The awful cheap pistol grip I showed above is also nearly too small for me to fit all of my fingers on, despite me not having very large hands. Those of you with larger hands will want to avoid that situation—unless you want to hold your pinky out like a wannabe elitist tea drinker.
Texture
Unlike with handguns, I've never found texture to be much of an issue personally. As long as the grip has some level of texturing, it's always been easy for me to maintain a steady hold of.
Still, some options offer more aggressive texturing if you feel that's necessary for you.
Finger Grooves
Finger grooves are another thing that seems to have fallen out of favor for both handguns and AR-15s. While they do potentially offer an improved grip when they fit your hand properly, everyone has different hand sizes so you may be out of luck if you go this route.
I'm generally not a fan of finger grooves, and I don't know anybody else who is.
Storage Space
The hollow space of the AR-15 pistol grip offers a possible place to store medical supplies, batteries, or Skittles. Most of the options on our list of the best AR-15 pistol grips take advantage of this storage space by including an end cap for securing your candy ... I mean supplies.
Cheaper options, like the one shown above, often do not take advantage of this space.
The Best AR-15 Pistol Grip Options
Here's our list of the best AR-15 pistol grips:
Prices accurate at time of publishing
BCMGUNFIGHTER MOD 3 Grip
The MOD 3 is the latest in Bravo Company's BCMGUNFIGHTER line of AR-15 pistol grips. Recently, it has become my go-to for builds.
As is the case for all BCM products, this part is made to be as durable as is needed for any task. It's made from "impact resistant polymers".
When attaching it to your lower receiver, you'll find that it's a very tight fit, so much so that you may question the spec of your lower. You could probably even get away using it without screwing it on, though we, of course, would not recommend that.
This grip takes advantage of storage space with a hinged end door with a water-resistant rubber gasket.
Color options include Black, Flat Dark Earth (FDE), Foliage Green, and Wolf Green.
It's one of the less-angled grips on our list, as well as one of the thicker options.
This grip is also available in BCM's Enhanced Lower Parts Kit, which is our choice for the best lower parts kit.
BCM Enhanced Lower Parts Kit
Prices accurate at time of publishing
Magpul MOE
Before BCM's MOD 3 became my go-to, I regularly purchased Magpul's MOE pistol grip. It's another fantastic option that I still use on a number of my AR-15s.
It's constructed from sturdy polymer and has a solid anti-slip texture around the entire thing.
Like the MOD 3, the MOE also has a cap for storage. I suspect the MOE, however, is less resistant to water.
I also believe it to be very slightly more angled than the BCM pistol grip.
Colors for the MOE include Black, FDE, Gray, OD Green, and Pink.
In the picture below, you'll see the MOE on my AR Pistol and the BCM MOD 3 on my newest AR rifle.
Magpul MOE-K2
Magpul also offers the MOE-K2, which has a more vertical grip angle than the regular MOE. It's available in the same colors, while offering the same texture and end cap as the regular MOE.
Prices accurate at time of publishing
Prices accurate at time of publishing
Daniel Defense Pistol Grip
Despite being one of the highest quality AR-15 manufacturers, I don't often recommend Daniel Defense parts because I feel there are better-value alternatives. This pistol grip from DD is an exception.
This grip has one of the steepest angles of all options, based on the 1911 grip angle. It also, in my opinion, has the best texture of any of the options on our list—though some find it a bit ugly.
The most notable difference of this pistol grip, compared to others we've covered so far, is that it comes with a built-in trigger guard. This can simplify building your AR lower receiver.
This DD offering is arguably the best pistol grip if you're building an AR-15 for self-defense or tactical purposes. It's available in Black, Brown (shown left), and Gray.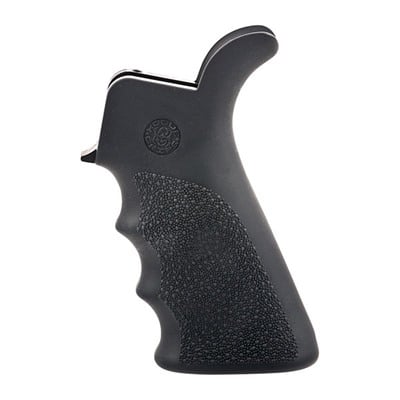 Prices accurate at time of publishing
Hogue Overmolded
Last on our list is an option for those who prefer finger grooves—the Hogue Overmolded Pistol Grip.
It has a rubber grip texture over the polymer which the grip is constructed from.
While this grip has great reviews and is a go-to for those wanting finger grooves, there is an annoying catch: It does not come with hardware, meaning you'll need to acquire a grip screw and washer separately. Why they chose to do this, I don't know!
If you already have a pistol grip installed on your rifle, you should be able to use the hardware from that.
The Hogue Overmolded grip comes in Black and Desert Tan.
Conclusion
Well that wraps up our list of the best AR-15 pistol grips.
There's a lot of options out there, so we've chosen to only include our absolute favorites. While a pistol grip is important, it's not something to get "analysis paralysis" over.
If you really want to spend time looking through more pistol grips, we'd recommend looking at some of the other options from Magpul and Bravo Company.
Check out this full AR-15 parts list that includes all of our recommended parts if you need help finishing your build.